TecknoSIM Bus Driving Simulator is an advanced tool for training and testing of bus drivers. Transportation of passengers involves great responsibility on the part of professional drivers. TecknoSIM bus driving simulators improves driver safety by building their basic driving skills while honing advanced skills of dealing with emergency scenarious. The simulator is a replica of an actual bus console with real vehicle controls like steering wheel, gear, break, clutch, pedals, indicators and switches. The simulator hardware and software are configurable for different types of buses like mini bus, passenger bus, electric bus, mini coach, school bus. Simulator is designed for both left and right hand driving countries.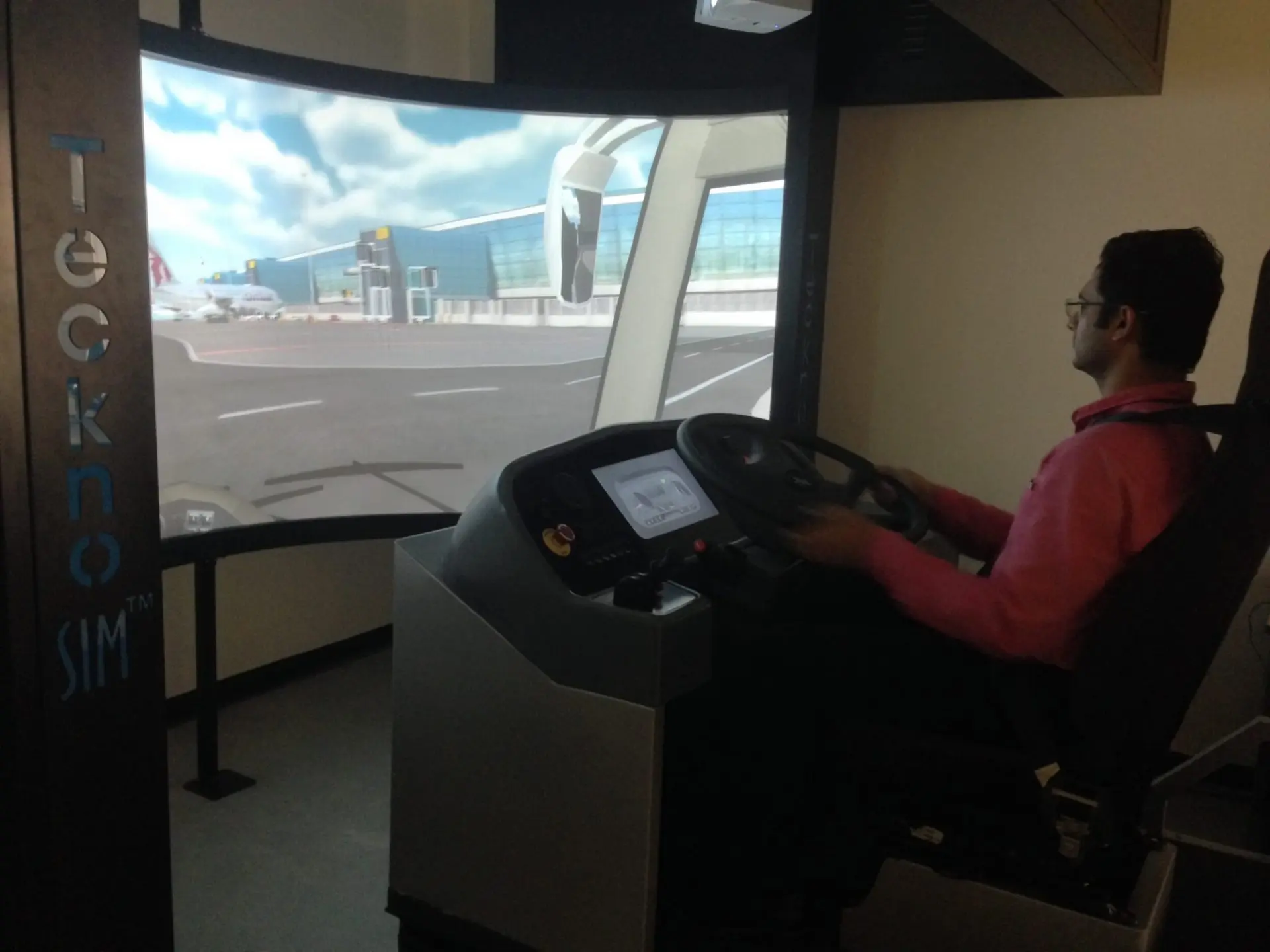 Applications
TecknoSIM Passenger Bus Driving Simulators are used for:
Software Features
Driving Terrains
Training Modules
Testing & Evaluation
Instructor Software
Group Training
Driving Terrains
Driving Terrains
TecknoSIM Software includes multiple terrains for comprehensive driver training. Drivers can learn and practise on different terrains like city roads, commercial areas, mountain roads, highways, expressways and off roads. The terrains are customized to country specific traffic regulations. Adjustable day/night condition, fog, rain, snow condition are inbuilt. The traffic level can be adjusted depending upon the skill level of driver.
Training Modules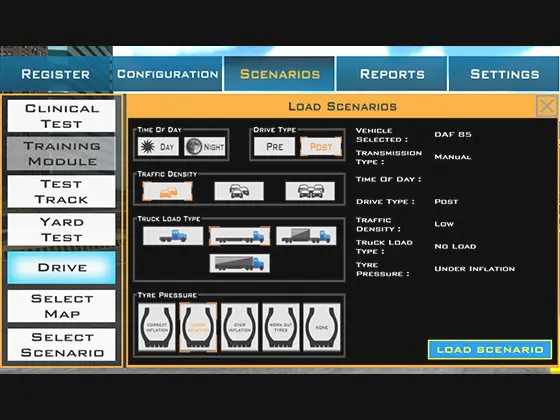 Training Modules
Passenger Driving Simulator has progressive training modules, which is suited for both initial and advanced driving training. The simulator scenarios cover basic driver training, evaluation and advanced training under different road, traffic and weather conditions. Lessons and objective evaluations can be performed with or without an instructor. Special modules are available to train drivers on eco driving, defensive driving, parking, backing, emergency driving and risky situation driving. Customized training modules are developed as per client requirement as well in multiple languages.
Testing & Evaluation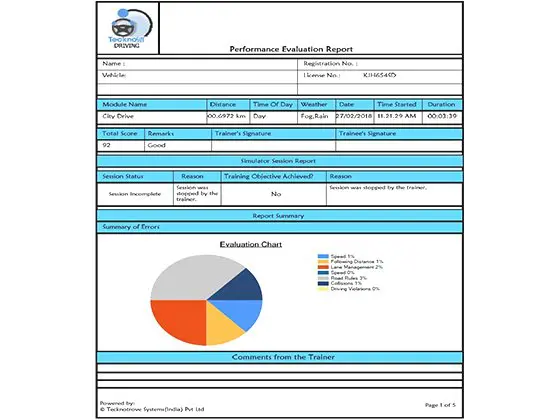 Testing and Evaluation
The drivers are automatically evaluated in real time by the simulator on their driving skills, road violations, defensive situation and driving behavior. The simulator generates a detailed driving evaluation report for each driver at the end of the scenario. The record and replay feature allows the instructor to replay the scenario and train the drivers on their mistakes.
Instructor Software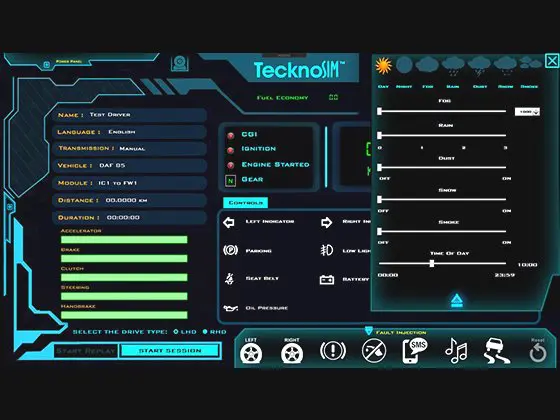 Instructor Software
The instructor software is designed to enable the instructor to register each driver and plan his training. The software allows the instructor to set different driving situations, inject faults like tire blowout, child crossing the road or other distractions. The real-time view of the driver screen and advanced reporting system give full control to the instructor to make his training productive.
Group Training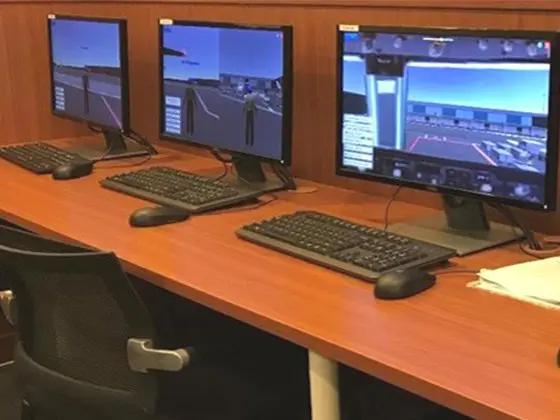 Group Training
Multiple simulators are interconnected to a single instructor to allow for training drivers in a group and is useful for training drivers together in different scenarios.
Hardware Features
Driving Station
Display System
Motion System
Instructor Station
Driving Station
Driving Station
Driving station is a replica of the actual vehicle OEM controls like brake, clutch, gear, gauges, and force feedback steering wheel are used in building the cockpit. Reconfigurable glass dashboard with and LED instrument panel, displays the instruments, gauges, indicator lights, and switches allowing the rapid selection of different truck configurations without changing hardware. The controls are placed in ergonomically correct locations for a realistic driving experience. All TecknoSIM simulators support right-hand and left-hand steering with the necessary software and hardware adaptations required. The simulator can be configured as generic to accommodate multiple vehicle types in the same hardware with conversion kits. All gear ratios and transmission types available on the market can be simulated, including 4, 5, 6, 8, 9, 10, 13, 15 and 18 speed transmissions.
Display System
Display System
The display system immerses the drivers in real world driving environments. Driving scenarios are displayed on 3 large LED Screens giving an 180° immersive display. High-definition projectors for front view & LCD screens for rear view are used in case of a full-scale simulator set up.
Motion System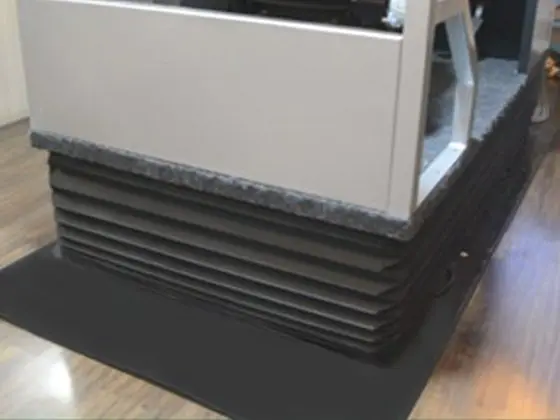 Motion System
TecknoSIM Driving Simulators incorporate an integrated electric motion system that is compact and low on maintenance. The electric actuators provide cues for vehicle acceleration and deceleration, road curvature and obstacles such as sidewalks and pot holes and many other road features. Vehicle engine vibrations are simulated as a function of the RPM. Vibrations from the tires on the road surface changes with change in vehicle speed and road surface. Motion systems are available in options of three degrees of motion (3DOF) and six degrees of freedom (6DOF) and are designed for maintainence free operations.
Instructor Station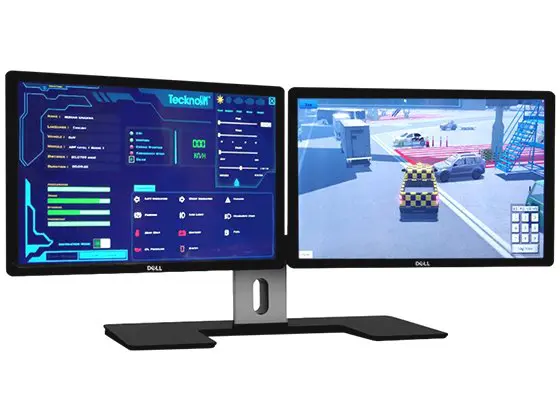 Instructor Station
The instructor station controls the driving station and allows trainers with the following options:
Managing database of trainees and instructors
Controlling multiple simulators
Creation of new exercises
Modifying the environment in a running session
Injecting vehicle faults in a running session
Record and replay of saved sessions
Managing performance evaluation reports
Calibration of simulators