Maruti Suzuki – the largest manufacturer of Automobiles in India is leading the way for driver training in India. The company has set the largest chain of driving schools in India with state-of-the-art training facilities including TecknoSIM driving simulators. The company, which first opened Maruti Suzuki Driving School (MSDS) in 2005, currently has 492 driving training centers across 238 cities in India with around 1,400 certified trainers. Maruti Suzuki Driving Schools has trained more than 15 lakh drivers to date. Tecknotrove is proud to be a part of this journey by being a leading supplier of simulators to Maruti Driving Schools with customized training and testing curriculum.
How do driving simulators help train better?
As per the Motor Vehicles Act and the CMVR, a trainee is required to master driving skills by spending 10 hours training on the road. It is not easy for a novice to acquire the necessary skill levels within such a short span of time. Therefore, to save on the limited time available, Maruti Suzuki Driving School has and started using driving simulators for training and testing drivers.
The simulators are designed in such a way that all controls replicate a real Maruti Suzuki car. Therefore, the trainee knows where exactly the pedals are located. When trainees start using a simulator, they can choose the specific controls they wish to practice with. As soon as the controls are mastered, the trainee can focus on learning various complicated maneuvers like lane changing, overtaking, merging with traffic and driving on roundabouts which enhances the training experience and substantially develops the trainee's confidence.
About Tecknotrove
Tecknotrove is a leading provider of technology-enabled training solutions.  Tecknotrove's expertise lies in developing customized Simulators, Augmented reality solutions, Virtual Reality solutions and  Gamified Training Solutions for industry and government. Tecknotrove's years of experience and success across industries is because of its passion and dedication to find better ways to train people, improve safety, reduce cost and increase productivity. With the global experience of more than 800 projects delivered across 24 locations worldwide, Tecknotrove has helped train and skill millions of users. For more information visit www.tecknotrove.com
About Maruti Suzuki India Ltd
Maruti Suzuki India Limited, formerly known as Maruti Udyog Limited,  is a subsidiary of Japanese Automotive manufacturer Suzuki and the largest manufacturer of Automobiles in India. With a market share of more than 50% Maruti Suzuki has been leading the market of passenger vehicles segment in India.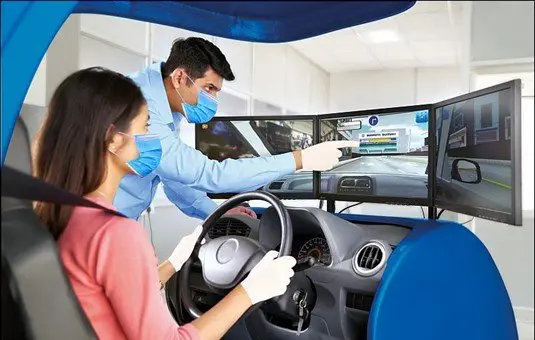 Image courtesy: Maruti Suzuki Driving Schools