Driver Training Simulators
Driving Simulators are available for both types of vehicles: Electric vehicles and hybrid vehicles. In addition to the Electric Vehicle simulator, customised VR training modules can be developed specifically for training technicians on electric vehicles. A technician can learn how to inspect, diagnose and perform service using the virtual reality headset. VR Simulators for electric vehicles are also developed to train workers on manufacturing and assembly of a vehicle in a virtual environment under complete safety.
Tecknotrove offers a wide range of driving training simulators that are replicas of actual vehicles. Driving Simulators are designed for cars, vans, trucks, buses, tankers, trailers and motorbikes for both Military and Civilian applications. Tecknotrove provides a range of solutions right from standalone desktop based driving simulators upto advanced training simulators with motion systems. We also set up and run technology enabled driver training and testing centers for corporates and government licensing authorities. In additon to this we offer onsite driver training services for corporates to help them develop skilled and safe drivers.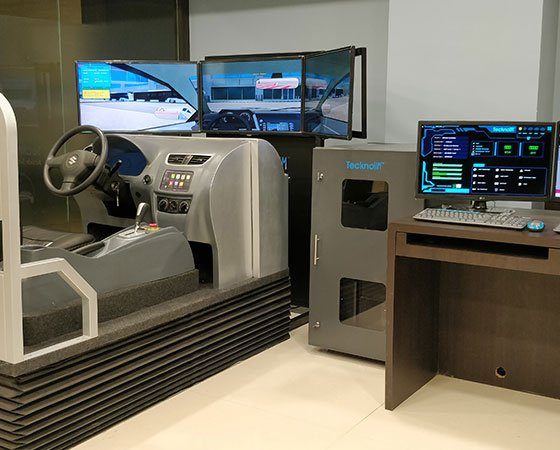 TecknoSIM Driver Training Simulator Demo
Product Range
Effective driver training and driver assessment has a huge impact on productivity and safety levels of the drivers. Tecknotrove offers highly realistic driving training simulators and Virtual reality driver training solutions for a wide range of vehicles such as car, SUVs, vans, trucks, tankers, motorcycles and many more. Through its driving training simulators, Tecknotrove is able to provide engaging content that gives trainees a comprehensive learning experience.