TecknoSIM Car Driving Simulator is an advanced simulator that enables training of both novice and experienced drivers in real life scenarios. The simulator is a replica of an actual car with real vehicle controls like steering wheel, gears, brakes , pedals, indicators and switches. The simulator hardware and software are configurable for a range of light vehicles including sedan, SUV, 4×4 and vans and are designed for both left hand and right hand driving countries. TecknoSIM Car Simulators are widely used by driving schools, vocational training institutes, automotive research institutes, logistic and transportation companies.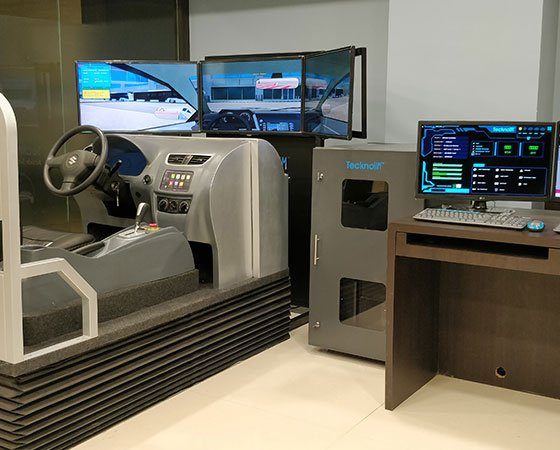 Applications
TecknoSIM Car Simulators are widely used for:
Software Features
Terrains & Scenarios
Training Modules
Testing & Evaluation
Instructor Software
Group training
Terrains & Scenarios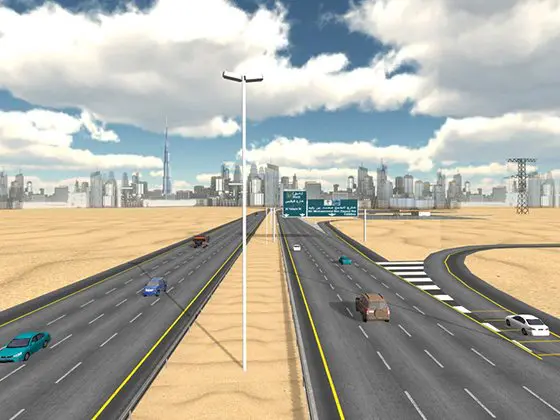 Terrains & Scenarios
Multiple terrains are available on the simulator for effective driver training. Drivers can practice driving on test tracks, city roads, residential areas, commercial streets, highways, freeways, off- roads and mountains. The real time change in weather like rain, fog, snow, dust and daytime conditions add to the realism. Artificially intelligent traffic in the simulator create normal and risky situations to allow the driver to practice before he drives in real roads.
Training Modules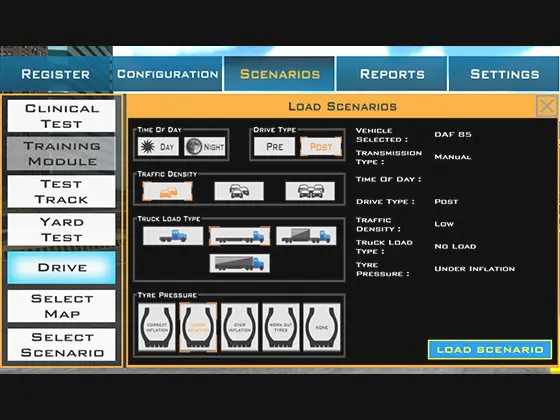 Training Modules
Car Driving simulator has progressive training modules, which is suited for both initial and advanced driving training. Special modules are available to train drivers on eco driving, defensive driving and 'emergency driving risky situation driving'. Customized training modules are developed as per client requirement as well in multiple languages.
Testing & Evaluation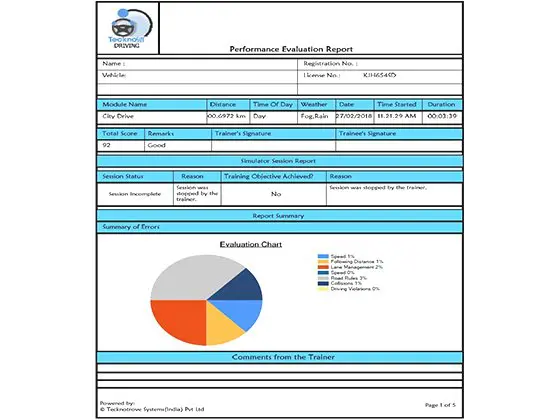 Testing and Evaluation
The drivers are automatically evaluated in real time by the simulator on their driving skills, road violations, defensive situation and driving behavior. The simulator generates a detailed driving evaluation report for each driver at the end of the scenario. The record and replay feature allows the instructor to replay the scenario and train the drivers on their mistakes.
Instructor Software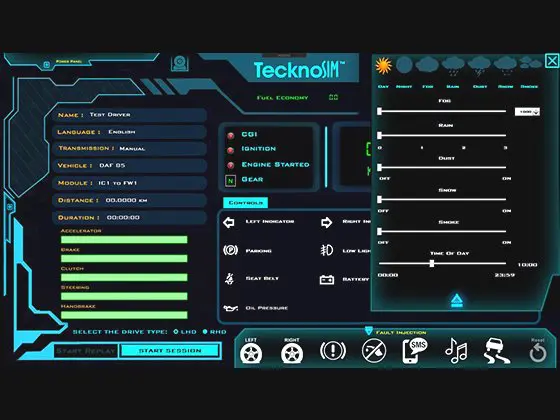 Instructor Software
The instructor software is designed to enable the instructor to register each driver and plan his training. The software allows the instructor to set different driving situations, inject faults like tire blowout, child crossing the road or other distractions. The real-time view of the driver screen and advanced reporting system give full control to the instructor to make his training productive.
Group training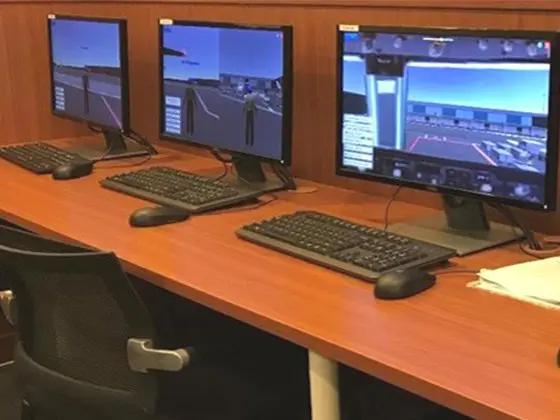 Group Training
Multiple simulators are interconnected to a single instructor to allow for training drivers in a group. TecknoSIM group training feature is useful for training on drivers on convoy driving, mission training, or even training multiple drivers together in different scenarios.
Hardware Features
Driving Station
Display System
Motion System
Instructor Station
Driving Station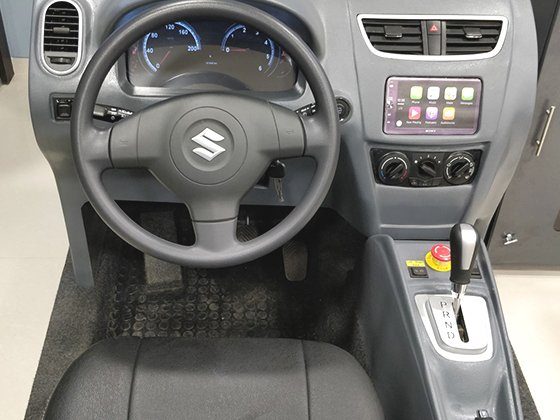 Driving Station
The driving station is a replica of a real vehicle with actual controls like adjustable seat, steering wheel, gears, brakes, pedals, indicators and switches placed in ergonomically correct locations for a realistic driving feel. All TecknoSIM simulators support right-hand and left-hand steering with the necessary software and hardware adaptations required. The simulator can be configured as generic to accommodate multiple types vehicles in the same hardware with conversion kits.
Display System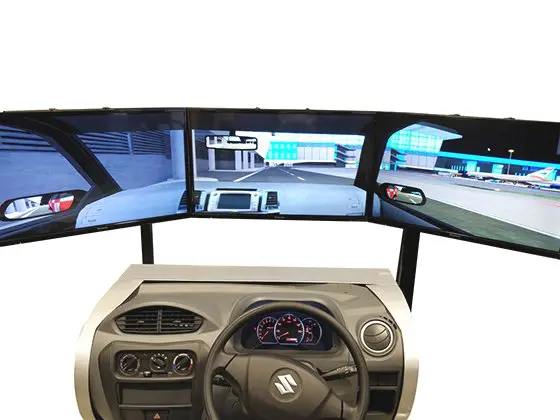 Display System
The display system immersive the drivers in real world driving environments. The display system of driving simulators are available in multiple options of Single screen display of 32″, Three 32″ screen display, Curved screens with multiple projectors for seamless 180 degree display.
Motion System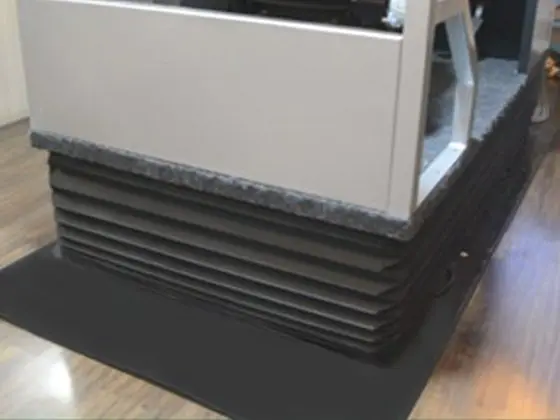 Motion System
TecknoSIM Driving Simulators incorporate an integrated motion system that reproduces the real driving effects with feeling of accelerating and breaking, driving on curves, potholes and many other road features in a highly realistic way. Motion systems are available in options of three degrees of motion (3DOF) and six degrees of freedom (6DOF ) Motion Platforms.
Instructor Station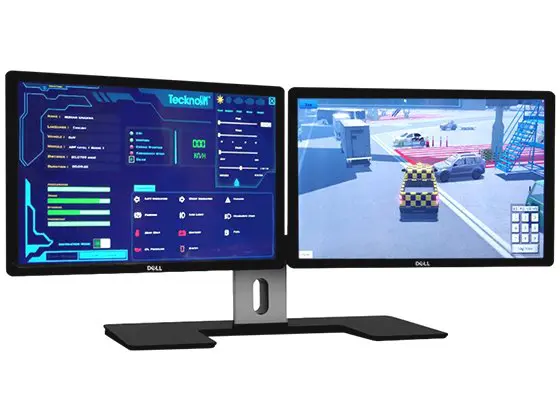 Instructor Station
The instructor station controls the driving station and allows trainers with the following options:
Managing database of trainees and instructors
Controlling multiple simulators
Creation of new exercises
Modifying the environment in a running session
Injecting vehicle faults in a running session
Record and replay of saved sessions
Managing performance evaluation reports
Calibration of simulators