TecknoSIM Car Driving Simulator is an advanced simulator that enables training of both novice and experienced drivers in real life scenarios. The simulator is a replica of an actual car with real vehicle controls like steering wheel, gears, brakes , pedals, indicators and switches. The simulator hardware and software are configurable for a range of light vehicles including sedan, SUV, 4×4 and vans and are designed for both left hand and right hand driving countries. TecknoSIM Car Simulators are widely used by driving schools, vocational training institutes, automotive research institutes, logistic and transportation companies.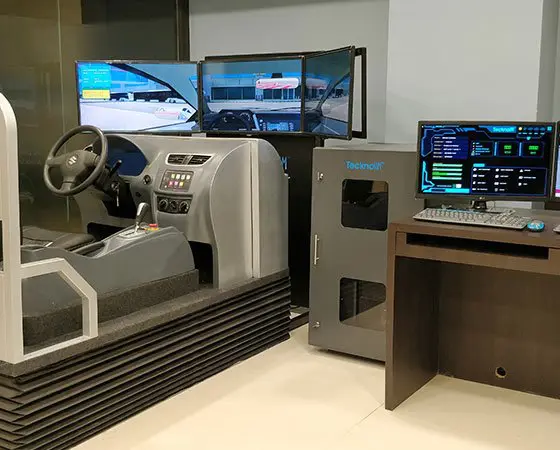 Software Features
Terrains & Scenarios
Training Modules
Testing & Evaluation
Instructor Software
Group training
Terrains & Scenarios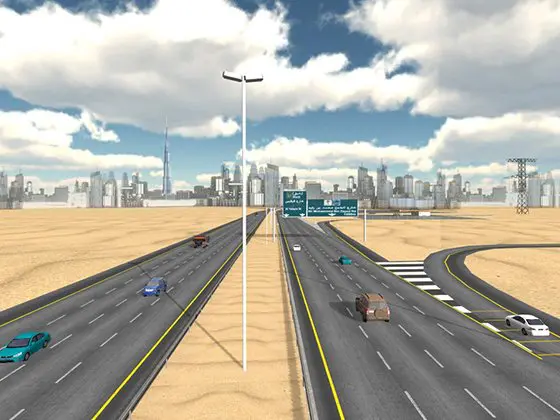 Terrains & Scenarios
Multiple terrains are available on the simulator for effective driver training. Drivers can practice driving on test tracks, city roads, residential areas, commercial streets, highways, freeways, off- roads and mountains. The real time change in weather like rain, fog, snow, dust and daytime conditions add to the realism. Artificially intelligent traffic in the simulator create normal and risky situations to allow the driver to practice before he drives in real roads.
Training Modules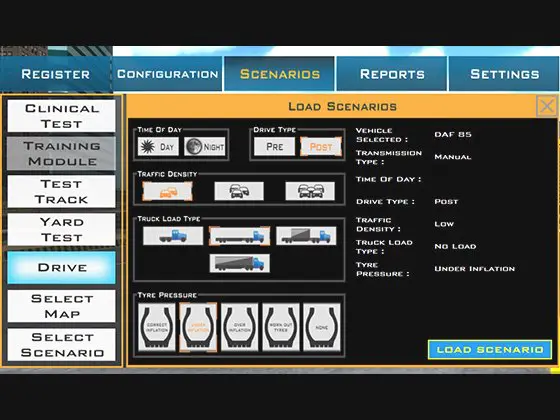 Training Modules
Car Driving simulator has progressive training modules, which is suited for both initial and advanced driving training. Special modules are available to train drivers on eco driving, defensive driving and 'emergency driving risky situation driving'. Customized training modules are developed as per client requirement as well in multiple languages.
Testing & Evaluation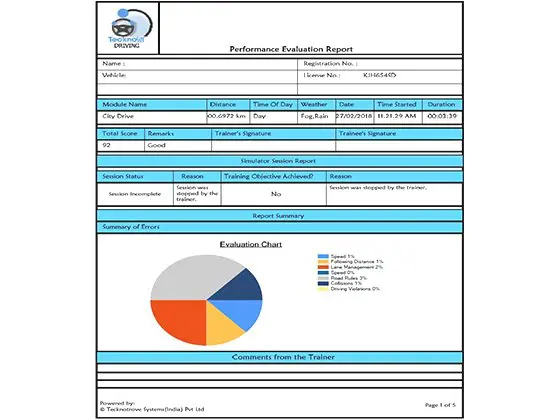 Testing and Evaluation
The drivers are automatically evaluated in real time by the simulator on their driving skills, road violations, defensive situation and driving behavior. The simulator generates a detailed driving evaluation report for each driver at the end of the scenario. The record and replay feature allows the instructor to replay the scenario and train the drivers on their mistakes.
Instructor Software
Instructor Software
The instructor softwar