With technology advancing at an unprecedented pace, traditional driver training methods are being surpassed by immersive and realistic virtual experiences. Truck simulators have emerged as a game-changer in the transportation industry, revolutionising the world of driver training.
GROWING DEMAND OF TRUCK SIMULATORS
With the advancements in technology, it's no longer enough for  drivers of heavy commercial vehicles to simply learn behind the wheel on the road. Simulation-based training offers a safe and controlled environment where commercial truck drivers can hone their skills without any real-world consequences.
Truck drivers need to develop defensive driving skills to acquire the ability to navigate potentially hazardous scenarios such as poor weather conditions , blind spot situations and dangerous drivers on the road.  Commercial truck drivers across the globe require a commercial driver's licence (CDL). This licence permits the driver to drive large and heavy vehicles like semi-trucks,  trailers, tankers . For a beginner it can be a daunting experience to get behind the wheels and learn on a real truck. Trucks Driving Simulators are proven to be the best way to learn driving these heavy vehicles  Some benefits of training  on a Truck Simulator include .
Learning to drive in a safe environment
Risk free driver training  on different terrains and conditions, traffic situation   Lower risk of road accidents
Improving fuel efficiency skills while driving
 Mastering defensive driving skills
Developing Efficient and eco-friendly driving technique
Developing confidence behind the wheel
HOW DO TRUCK DRIVING SIMULATORS IMPROVES DRIVING SKILLS
Truck Driver Training  Simulator provides a realistic driver training  experience. Rather than driving  physically on the road, the driver is immersed in the virtual world through a multi-screen setup with artificially intelligent vehicles and terrains . Simulator includes all essential features like driver's seat, seatbelt, dashboard with instrument cluster, ignition, gears, steering wheel, horn and turn signals. The integrated motion platform brings added realism to life-like driving simulation. The Full Motion Driving Simulator provides movements like turns , jerks,  tilts, crashes and engine vibrations similar to those experienced while driving an actual truck. As a result, any impact or encounter with curbs is accurately felt during the simulation. Furthermore, the simulator faithfully replicates various road conditions, making it especially beneficial for novice drivers who may face challenging weather scenarios in their future travels.
Truck Simulators are primarily used by logistics companies, trucking companies or fleet owners  for the following applications
Driver Screening while recruiting
Orienting and inducting new truck drivers
Refresher training of experience truck drivers
Other uses for  heavy vehicle driving simulators include
Assessment and Training: The simulator helps evaluate skills and behaviours like backing, turning, braking, intersection behaviours, tight manoeuvring, and hazard perception.
Scenario-based Training: Commercial Truck Drivers go through various simulated scenarios to assess and improve their skills in different aspects of driving.
Skill Assessment: Simulators measure the driver's abilities in specific areas, allowing identification of strengths and weaknesses, such as backing skills.
Detailed Feedback : Instructors use simulator feedback to tailor instruction, providing strategies to improve weak areas, like backing skills.
Reassessment and Re-training: After instruction and practice, truck drivers may undergo another road test to ensure they meet the minimum requirements for driving at the company.
Adaptation for Different Driving Types: Simulators are especially useful when transitioning between different driving types (e.g., van driving to flatbed driving) to familiarise drivers with new challenges and requirements.
IMPROVING SAFETY AND MINIMISING RISK WITH DRIVER TRAINING SIMULATOR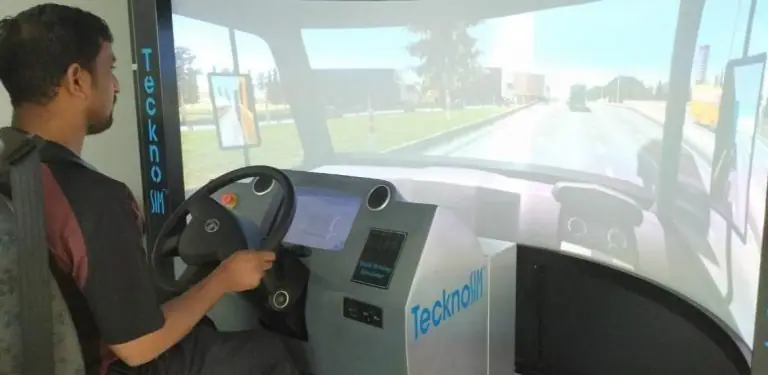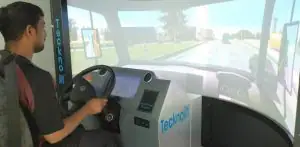 The driver's safety on the road is as important as their overall well-being. Advanced Truck Driving Simulators allow training  commercial truck drivers on the below 6 important topics that would protect them on the road:-
Defensive Driving: Defensive driving emphasises proactive awareness, urging drivers to stay alert to potential hazards and changing road conditions. Training on Truck simulators builds attentiveness of drivers , trains them on blind spots, lane management and safe distancing, prepares them for emergencies, gives practice on night driving and thus  significantly reduces the risk of accidents.
Maintaining the vehicle: The driver's safety begins from the safety of the vehicle they drive. Truck simulators allow training on regular maintenance of vehicle including the tyres, mirrors, engine, gears etc
Pre and post trip inspections: Every trip needs to be safe, hence thorough vehicle inspections before and after a trip is essential to ensure safety . Advanced modules on Truck Driving simulator enables training on Pre-trip and post-trip inspections as required by the Department of Transportation.
 Avoid distractions: The Federal Motor Carrier Safety Administration identified distractions as the number one cause of accidents for truck drivers. Distracted driving module allows of the truck training simulator allows drivers to experience the hazards of distracted driving like eating, talking on phone or driving under influence of Alcohol.
Rewards and recognition: Training on Truck Simulators allows instructors to measure the performance of each driver over a period of time . The detailed reports help companies incentivize and reward their commercial drivers who practise good driving habits and show improvement in performance. This proactive coaching and rewards programs is one of the easiest ways to ensure fleet safety.
IMPROVING DRIVER PERFORMANCE AND SAFETY WITH TRUCK DRIVER TRAINING SIMULATORS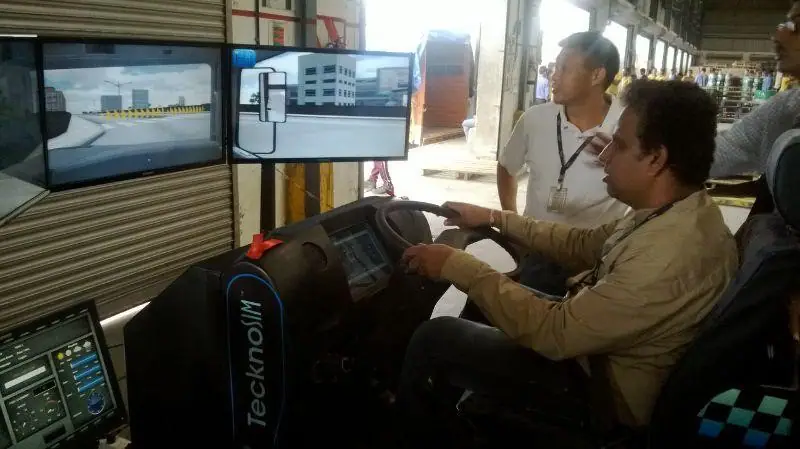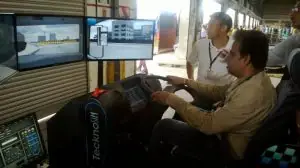 TecknoSIM Truck Driving Simulators are being used by major OEMS ,  transportation & logistics , Oil & Gas companies around 26 countries in the world.  Oil and Gas companies like Linde , Total Oil are using simulators to familiarise and train their drivers on transportation of hazardous goods with complete safety.  Automobile manufacturers like BharatBenz and Scania are using Truck Simulators to familiarise their drivers with the latest vehicle features and improve their productivity . Logistics companies like  KMT Logistics are using TecknoSIM Truck Simulator for training their drivers of defensive driving and hazards perception  . Oil Transportation companies in the Middle East like Tristar are increasingly adopting driving simulators as a part of their training programs. Vocational training centres are also using Truck simulators for skilling and developing a pool of drivers in the country.
Tecknotrove is the leading company operating in the driving training simulator market in the region. Tecknotrove developed India's first driving simulator and offers the most advanced  Heavy Vehicle Simulators with high fidelity motion platforms. TecknoSIm Truck Driving Simulators enable training drivers  on eco driving, defensive driving, dangerous good transportation, emergency driving and road safety under complete safety. Before the driving licence is issued, the driver assessment program enables testing the driver's skills on a simulator.
For  more information on the Truck simulator or to book a simulator demo contact the team on sales@tecknotrove.com