Simulator-based training has emerged as a game-changer in the world of skill development, and its importance cannot be overstated. Traditional training methods often fall short when it comes to effectively preparing individuals for real-world challenges. That's where Advanced Training Simulators step in, offering a highly immersive and realistic virtual learning experience bridging the gap between theory and practice.
Advanced Training Simulators offer virtual training platforms and realistic environments that mimic real-life scenarios like replica operating environments,  emergency situations,  bad weather conditions, difficult terrains, and laws of the region. For example: the Royal Oman Police has successfully built 10 training sites across Oman. Truck Simulators used by them replicate real cities and their streets. The drivers trained and tested  on defensive driving skills and hazard perception in a real environment without the dangers and hazards involved
How To  Make  Simulator Training Effective
Simulators offer a dynamic platform for immersive learning. Let's have a look at the 10 actionable tips to optimise simulator training and achieve a seamless, engaging, and result oriented learning experience.
With Simulators your training can be targeted and customised to suit the training needs of each individual employee  Hence it is important to conduct a skills gap analysis to identify what skills your workforce currently possess and where the gaps exist. For example, conducting a driver profiling test will help logistics companies analyze the risk levels of their driver . Driving profiling tests highlights  whether the driver has poor reaction time or lacks road safety awareness . This kind of detailed profiling should tell you what type of experiential learning you need to offer and how often to administer them to your employees.
In order to make simulation training relevant and effective it is important to identify your training goal. Your simulator training should help in achieving at least one of the following goals:
Reduced attrition
Implement Scalable and result-oriented training
Improved productivity & efficiency of the employees
Reduced training costs
Increased employee confidence.
Improved Safety standards
Reduction in overall operational costs
Allocate Budget for Simulator Training:
In today's business environment, investing in training and development is no longer a luxury but a necessity and requires careful planning, research, and budgeting to ensure they deliver the desired outcomes. Simulator training makes great business sense as it offers result-oriented and targeted training that leads to effective results. Allocating an adequate budget for simulator training is an essential step toward building a competent and agile workforce.  Simulator training has helped organisations improve their bottom line by more than 20%
Choosing the right simulator for your training program is important to ensure that simulator training is effective.  Simulators are not just physical replicas of real machines equipment or environments but should offer a comprehensive inbuilt training program that allows you to train in multiple virtual environments.
Best Training Simulators are the ones that offer you customise inbuilt training programs . Training simulators should  help you train in  regional language and generate detailed reports that help trainers  identify training gaps of each individual . Companies like Tecknotrove have been manufacturing training simulators for over 20 years and offer a wide range of customised training solutions for their clients across the globe.
Ensure Scalability In Training
One of the best Advantages of training on a simulator is that it offers scalability  in training . Cloud based – Training Management Systems  allow you to register trainees , set up training programs , schedule training sessions, monitor progress and generate training reports and certificates   centrally at a click of a button . Tecknotrove allows its customers to access all forms of virtual training like training simulators, virtual reality training and e-learning online on its unique cloud based training management system.  With the help of TMS , its  clients can schedule the simulator  training from their head office and make it accessible to multiple centres across the globe/
Customised  Training Programs
One of the biggest advantages of simulator training is that it can be customised to suit your needs. Training programs should be interactive and engaging . For example for airport training , simulators can be customised to match the Airside  terrain with exact signages and marking  , type of aircraft and  the equipment like cargo loader, aircraft pushback or fire tender for training purposes. For the  Mining Industry simulators can be customised to suit the type of mine , mining equipment and standard operating procedures in a virtual environment  to make training relevant . Similarly  driving Simulators can also be customised to suit the terrain type and training language as per the country
Detailed Performance Analysis:
Just completing the training like a tick box  isn't enough. A detailed feedback system that provides an  insight of how well the simulation training has  aligned with your training objective is just as important . Your training simulator should  be able to generate detailed reports and performance analysis of the trainee. The simulator should also enable the trainer to  record the training performance and replay it for detailed performance analysis at the time of training .
It is advisable to review the quality of training reports as they indicate the trainee's session duration , violations , performance observations and other metrics. Typically the simulator should allow the management  to view the  company wise performance progress and report online in real time .
Continuous Service Support
Lifespan of a good quality training simulator is around 8-10 years  if maintained under warranty and updated with the latest training modules regularly . For a good return on investment it is important to ensure that the training simulator a company  purchases ,  is delivered  with an international warranty  and continuous onsite and online support for a minimum period of 5 years . With continuous service support you can ensure a good return on investment from your training simulators .
Use Cases Of Training Simulations:
Aviation :
The aviation industry heavily relies on simulation for training their employees as practising on actual aircrafts or airside equipment  is expensive. Aircraft Pushback training simulators are used to train pushback operators on handling aircraft on airsides , hangars and taxiways , whether commercial or military aircraft, zeroing the risk of accidents, human loss and saving money.
Driving :
Safe drivers are important for safe transportation and ensure safety of roads. Driving Training Schools and Logistics companies across the globe use driving simulators to train and test drivers on their driving skills. Advanced Driving Simulators allow training on  virtually realistic roads and weather conditions in a completely safe environment
Mining :
Mastering the operation of heavy earth moving equipment  demands a specialised skill set. Simulation-based learning emerges as the optimal approach for acquiring proficiency in utilising these earth moving equipment  machines efficiently and effectively. It provides a controlled and immersive environment for skill development and enhanced understanding.
Defence :
Training of the armed forces  and preparing them for battlefields is not only time consuming and expensive but also dangerous while training on actual grounds . Hence Simulator training is being extensively used by the military forces around the world for training their soldiers on Fire Arms training , Tank driving and operation, Heavy Earth moving operation training ,  Convoy driving to name a few.
CHOOSING TECKNOTROVE FOR RESULT ORIENTED SIMULATION SOLUTIONS
Tecknotrove has over two decades of experience in providing the most advanced simulation solutions for its customers in across Mining & Construction, Aviation, Oil & Gas, Automotive & Logistics, Defence and Nuclear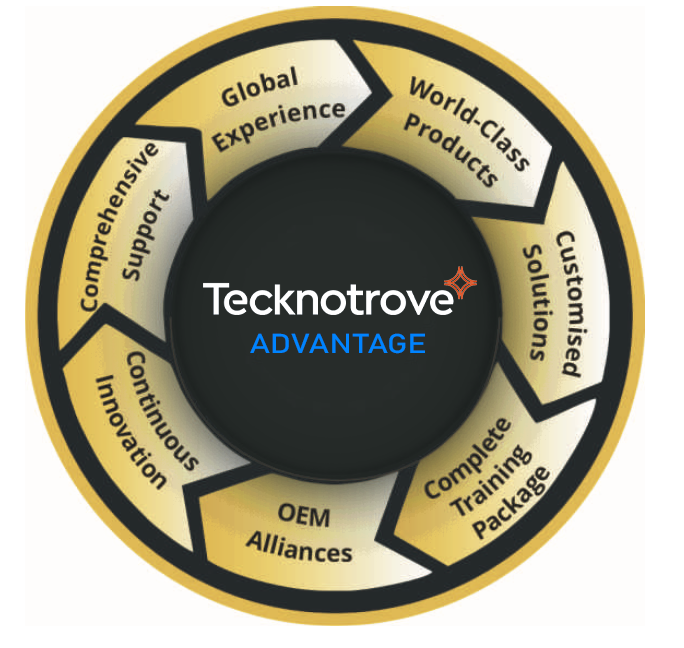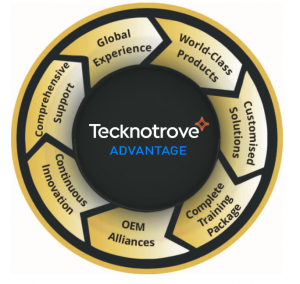 With Tecknotrove you can:
Digitise your existing training programs and shift to a virtual training environment
Improve productivity with bespoke simulation training solutions
Prepare teams for emergencies and difficult situations to improve safety
Enable teams to practise and master skills in a safe virtual environment
Take training anywhere with mobile simulation training labs
Schedule, Track and monitor training progress through a centralised Training Management System (TMS)
Take advantage of training in multiple regional languages
Identify Skill gaps and make meaningful training plans and goals
If you are looking for the best simulation solution for your training needs contact our simulation  experts today on sales@tecknotrove.com