Warfare is changing and developing at a rapid pace with the arrival of new technologies and innovations in arms, ammunition and combat vehicles. The evolution of weapons has resulted in more accurate weapons and a different way of fighting battles. Modern warfare involves the futuristic Infantry Weapon Training simulator in defense and combat vehicles capable of destroying enemy tanks. With conflicts constantly happening across different parts of the world, countries are always trying to strengthen their militaries including India. Defence forces including the army, navy, airforce and law enforcement agencies around the world are constantly working towards modernizing. Training systems to keep up with evolving technology. There is a growing need for safe and cost effective training systems and training simulators and virtual reality play an important role in enhancing defense capabilities.
What is the need for Infantry Weapon Training Simulators?
Infantry combat involves operating weapons and defense equipment in a range of different environments. Hands-on training is not feasible for preparing soldiers for war situations however it is important that Infantry combat soldiers receive advanced training in artillery skills to become proficient at weapon handling and fighting under complete safety.
An infantry weapon training simulator is an invaluable training tool for the armed forces. Simulator-based training saves time and money. The Infantry Weapon Training Simulator in defense replicates different weather and terrains to immerse soldiers in true-to-life battlefield situations. Simulators ensure realism in the training of the personnel.
TecknoSIM Infantry Combat Training Simulator is an advanced VR firearm training simulator designed to effectively train soldiers on marksmanship skills, group firing and advanced tactical scenarios. Weapon training simulators enable the forces to learn and practice the use of multiple firing weapon systems like pistols, rifles, light machine guns, glock  in a fully virtual environment and enable trainees to experience, rehearse and collectively perform future missions safely without the risks, hazards and costs involved.
Advantages of VR Infantry Weapon Training Simulator in Defence.
The main advantages are time and cost: military training is prohibitively expensive, particularly airborne training, so using flight simulators rather than actual aircraft is more cost-effective. Furthermore, an element of danger can be introduced into these scenarios while causing no physical harm to the trainees.
What types of small firearms can be trained on VR?
There are a lot of types of small firearms that the military and defense industry uses and their forces need to be trained on them. TecknoSIM Infantry Combat training simulator  is a VR training system that allows the defense forces to train their armies on multiple types of firearms in a completely safe environment without the costs and risks involved .
Rifles
Pistols
Machine guns
Assault rifle
Sniper rifle
Machine guns
Recoilless rifle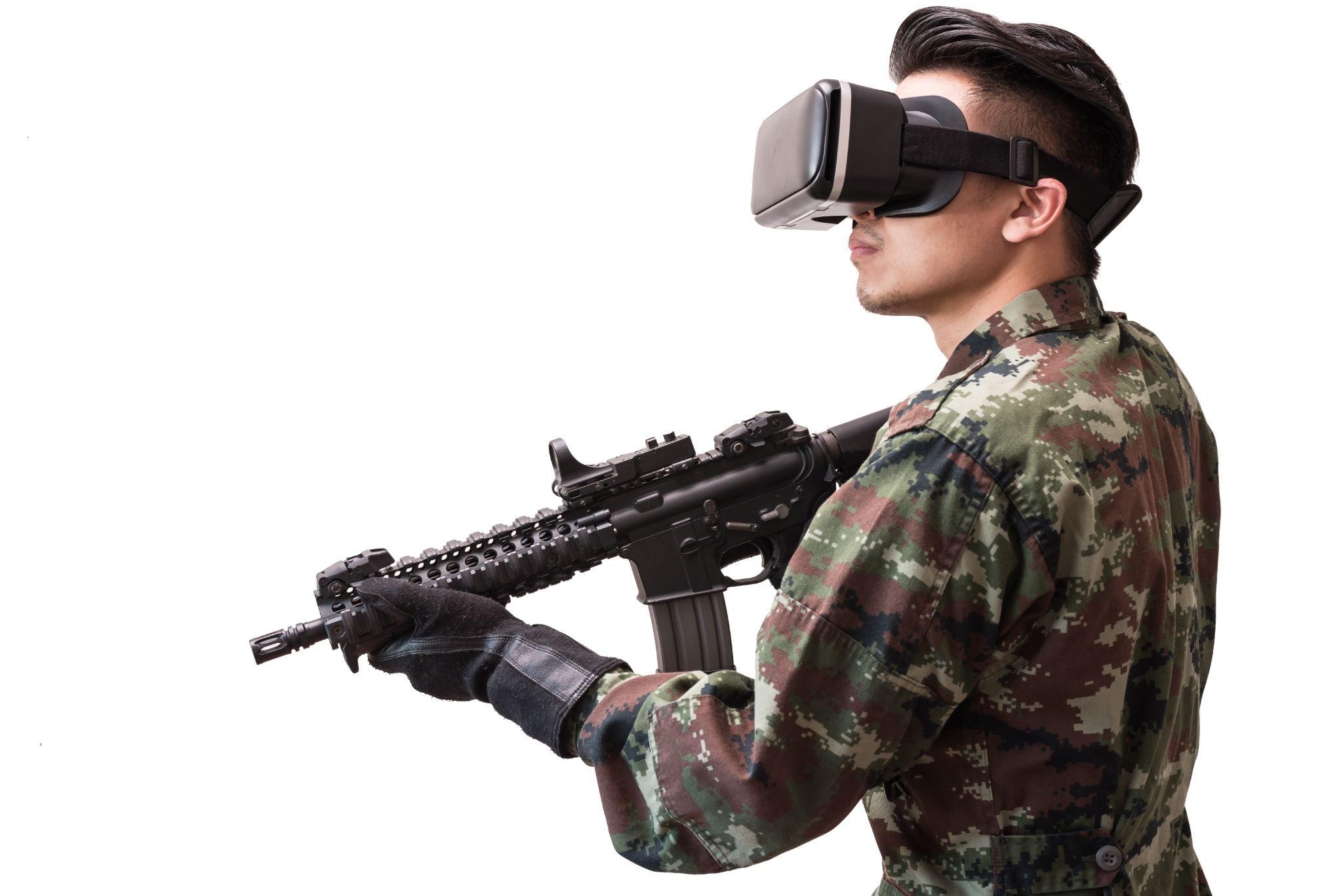 An infantry combat training simulator immerses the squad in the virtual battlefield with simulated weapons. Here is a quick rundown of the components that make up an infantry training simulator:
VR Display

A 360-degree field of view is provided by the virtual reality headset used in the advanced infantry combat training simulator. Soldiers use a high-resolution head-mounted display that facilitates the desired level of visual immersion.

Motion tracking

Soldiers learn how to duck, cover, crouch, and attack with the help of simulators. Motion trackers record the movements of soldiers which are replicated in a virtual environment for training purposes.

Weapon handling system in Infantry weapon training Simulator:

An infantry combat simulator in defense imparts lessons on the use of weapons for soldiers. Soldiers learn critical skills associated with weapon use by simulating the size, weight, balance, and functionality of the weapon. By replicating the form and function of real weapons in a simulated environment, soldiers receive extensive training on a variety of weapons.

Advanced Instructor Station

Instructor operating station controls the infantry weapon training simulator . I allow the instructor to set scenarios and monitor training progress. It can monitor multiple VR headsets at the same time.
Use cases and future of weapon training
Indian Defence has introduced the Infantry Weapon Training Simulator as part of its training routine. It also gives the growing importance of realism in training to minimize real-world equipment utilization and to reduce defense training costs. The Latest: Simulation policy issued by the Ministry of Defence (MoD) India seeks to promote the use of simulators by the Indian Army, Indian Airforce, Indian Navy, and the Indian Coast Guard. The policy proposes to not only help the government improve the training and operational preparedness of forces, but also help in reducing expenditure on training and preserving the life of equipment.
Going forward, virtual reality training simulators will be used to prepare soldiers for complex combat situations. The nature of warfare is changing owing to advancements in weapon technology. The government of India aims to implement simulation-based training across all military domains.