The global VR market size is projected to increase to more than 12 billion U.S. dollars by 2024.
While VR is highly popular in the gaming and entertainment industries, its applications are rapidly expanding in other industries.
Personnel training is an integral part of any organization as a company's success depends heavily on what the employees manage to achieve individually. While classroom training is a commonly adopted method, there are certain jobs that involve a high degree of risk and demand exceptional proficiency. So how does an organization prepare its employees for tough jobs? Well, at the moment, Virtual reality (VR) looks like the best answer. There are different types of VR training solutions : fully immersive, semi immersive and non-immersive. Fully immersive Virtual Reality works by simulating real life situations and creates a sensory experience for the user by engaging all senses like sound, sight and motion.
Simulation companies are working on innovative solutions using Virtual Reality training and workforce development. VR offers an immersive and engaging environment to train workers and engage new hires in a cost effective manner. VR also helps companies in reducing the risk of damage to complex equipment or life while building repeatable lessons with an objective assessment.
Businesses that incorporate VR in Enterprise training and industrial training have better trained employees. VR helps employees get a priceless first-person perspective of the job and enables hands-on training in a completely safe environment. Interactive components are the major highlight of VR that makes for meaningful training as passive learning methods are no longer useful.
Fully immersive VR Solutions offer endless possibilities for businesses to leverage VR technology to their advantage. Fully immersive VR Training solutions create experiences for employees that enables them to be fully immersed in the training environment and learn at their own pace. The possibility of learning actual skills hands-on , makes employees productive and boosts the overall productivity and profitability of businesses. Thus investing in virtual reality training simulations makes great business sense as it has multiple benefits which will be discussed in detail in this article.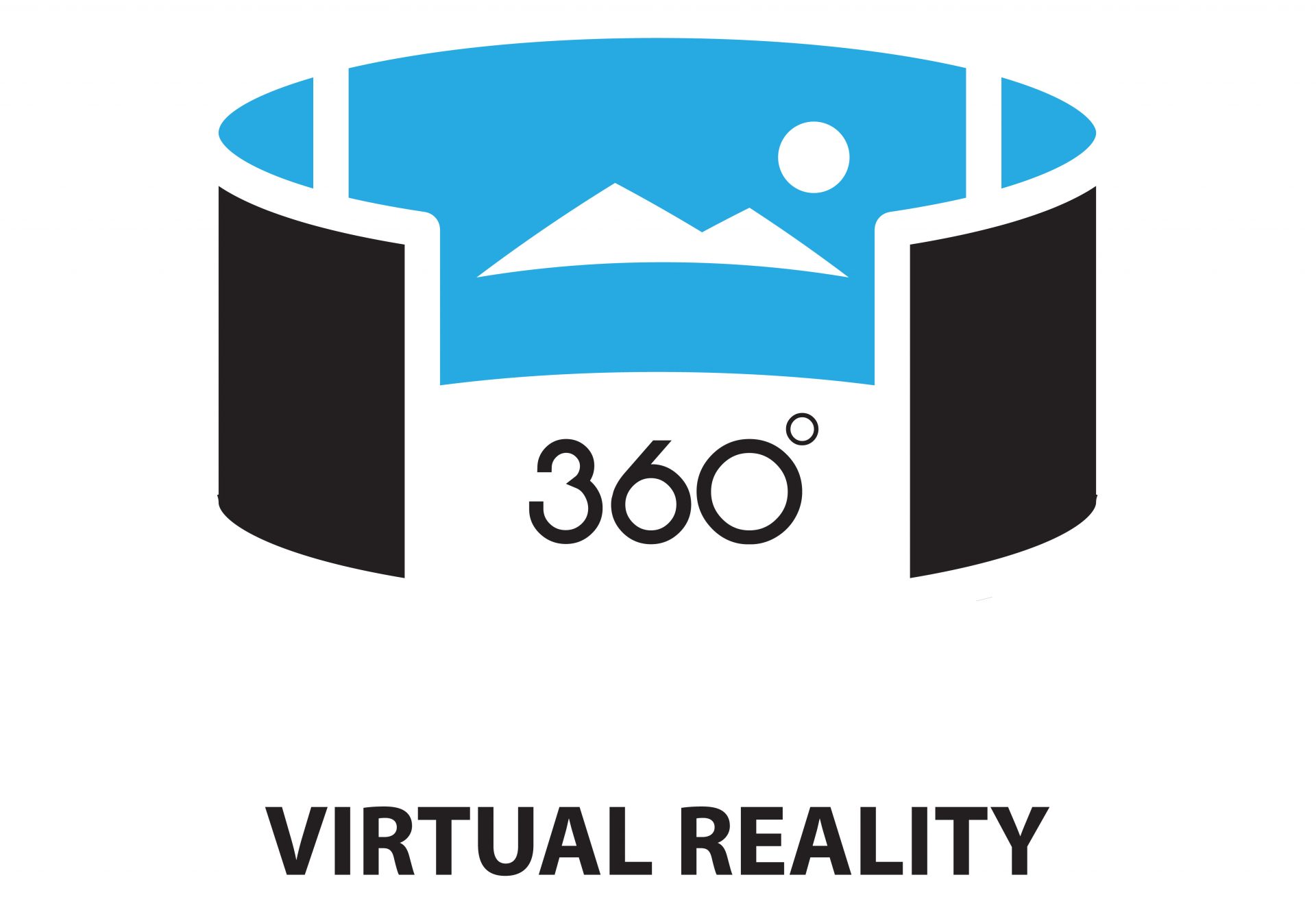 Applications of VR in enterprise or industrial training
Many industries have widely adopted virtual reality for various purposes. Virtual reality makes practical training sessions much easier and effective. Simply studying PDF material and trying to implement the learnings in real world scenarios would definitely produce poor results. Virtual reality can take enterprise and industrial training to a whole new level by upskilling employees at a much faster rate than traditional methods.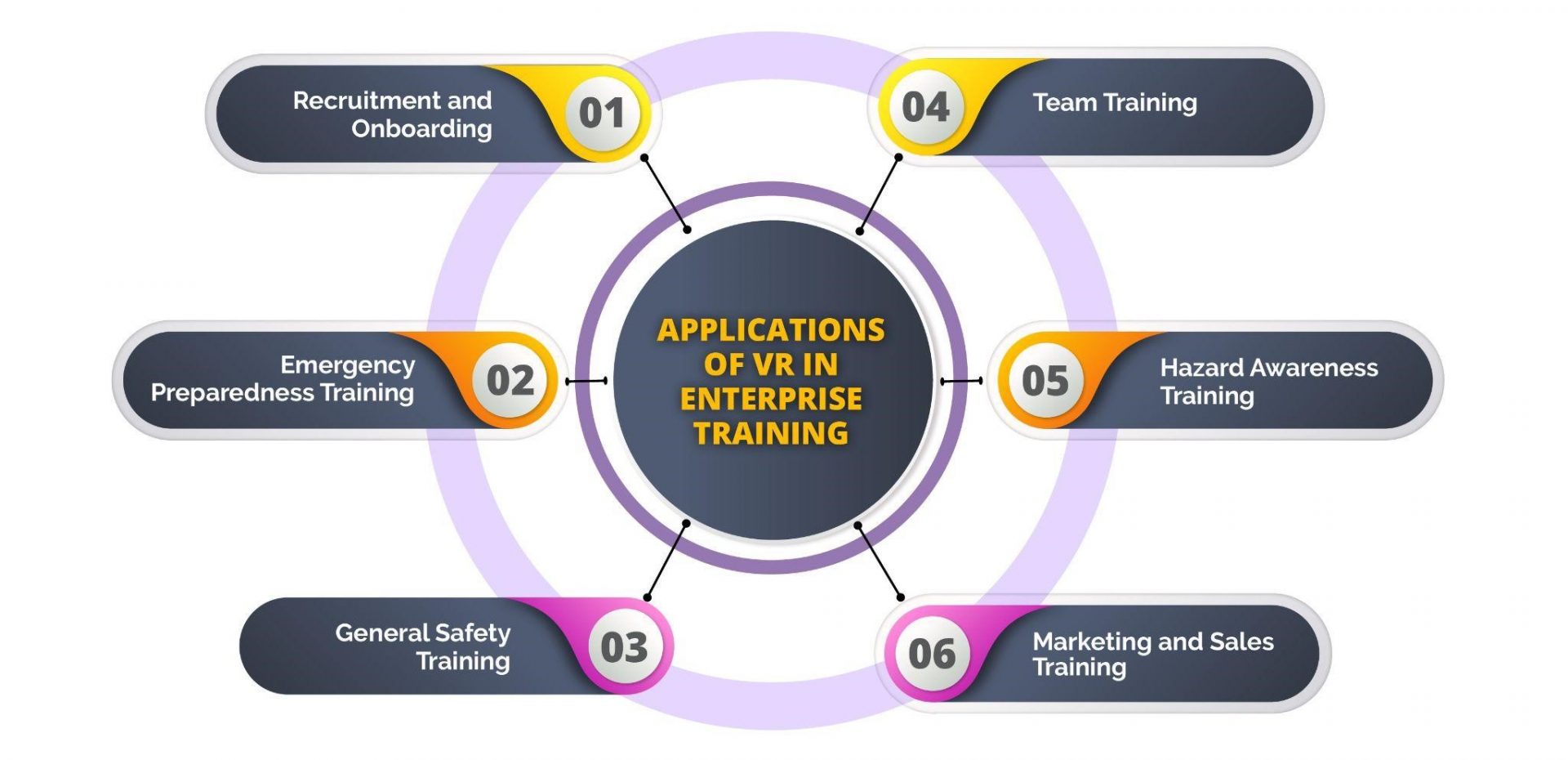 Here's an overview of the applications of virtual reality in enterprise and industrial training:
Recruitment and Onboarding
VR training can be used to improve the recruitment and onboarding process within an organisation. Using VR , the candidates can be put in a realistic scenario and be interviewed virtually with relevant questions specific to the job role . VR can also help companies in onboarding employees. With the help of VR , companies can virtually induct employees to the process ,workflow and common challenges in a job .
Emergency Preparedness Training
Another application of VR is preparing employees for emergency situations like fire,machine breakdown, incidents. Crisis situations are created not just to train employees to effectively deal with emergencies but gauge their stress levels while doing so. Employers can measure the performance of each employee and set individual goals. With virtual reality, it is possible to understand and improve the capabilities of employees and help them achieve goals faster. Organizations with virtual reality training can mould and transform employees into valuable resources aligned with their company culture.
General Safety training
Employees with sharp decision making skills are indeed a valuable asset for companies. Virtual reality is applied in creating specially designed scenarios from real work examples to enhance the decision making skills of employees. For example oil and gas companies can develop start up training for their oil refinery , or a retail chain can train employees on how to tackle a difficult customer or organisations can train on fire drills. In VR employees can experience real life scenarios and practice responding to a range of difficult situations. Employees can understand the outcomes of their decisions and practise the most ideal response expected during each situation.
Team training
Training requirements evolve over time and upgrading traditional training procedures every time is quite a challenge. VR training solutions are easily scalable to adapt to the evolving needs of the organization and employees. Especially post covid , organizations prefer virtual reality since it can train a large workforce remotely and under complete safety. Employees can receive the same training experience with no compromise in quality. Virtual reality eliminates discrepancies in training satisfaction and program completion. The expenses involved in training all employees at a single location can be avoided. All employees located at different places within the organization will be equally efficient and productive.
Hazard Awareness Training
There are several jobs that demand a hands-on training approach. But hands-on training is often difficult to implement owing to safety issues. For example, operating a heavy machinery or working on an assembly line or working in confined spaces is a risky job that must be practised thoroughly before the employee joins duty. Customized VR solutions in industrial training helps organizations create more efficient employees.
Marketing and Sales Training
Upgrading skills of sales teams can now be carried out continuously and on demand. VR allows training of sales professionals in a virtually created store or showroom. By wearing virtual reality headsets the individual is able to put themselves in a virtual showroom and practice selling techniques , understand types of customer and master the product features.
VR training success stories
Companies across the globe have adopted VR training to make things easier for employees as well as improve knowledge retention thereby increasing operational efficiency. VR is applied in training for vehicle walkaround inspection, driving, aircraft MRO, ramp safety, cargo loading, mine site familiarization, machine inspection, plant orientation etc. Here is a list of few companies that utilize VR for training:
1. Walmart
Walmart trains store associates with hands-on VR training to upskill employees on new processes and technologies. Walmart uses VR headsets to prepare store associates to solve interpersonal conflicts and handle rush hours and peak season. Walmart has witnessed a significant rise in knowledge retention since it implemented VR training.
The retail giant has trained more than 1.4 million store associates with VR training.
The exam results after VR training improved by a good percentage (approx 10-15%) which proves its effectiveness over traditional training. Walmart could reduce training duration of employees on a new technology from 8 hours to 15 minutes with Virtual reality. Walmart uses VR for compliance, soft skills training, and training on new equipment such as kiosks and POS machines.
2. Verizon
Verizon is a US telecommunications company which has invested in VR training. The company used VR to train and prepare its employees for risky situations like armed robberies. In case of a robbery, it is important for store associates to respond with calmness without putting their lives in danger. The company used VR to play out such scenarios and trained employees to bring such situations under control without panicking.
The company used actual theft footage to develop the training scenarios. It was found that store associates felt like the situation was real and responded accordingly. After the training sessions, it was found that roughly 97% of employees were confident enough to face such situations in future.
3. Porsche
Porsche implemented VR training to educate employees about the working of electric vehicles. Employees can learn about electrical components with interactive quizzes. The training module is designed such that it is easily accessible for employees throughout the company.
4. BP
BP is an oil company in England that employs virtual reality to impart training for emergency exit procedures. This is an important part of safety training since even minor errors can lead to fatal accidents.
5. Henkel
Henkel's use of VR is primarily focused on training employees at recognizing health and safety risks at the workplace. Employees are required to accurately pinpoint all risk areas displayed in the virtual environment. Upon completion of each level, the complexity of tasks increases.
6. FedEx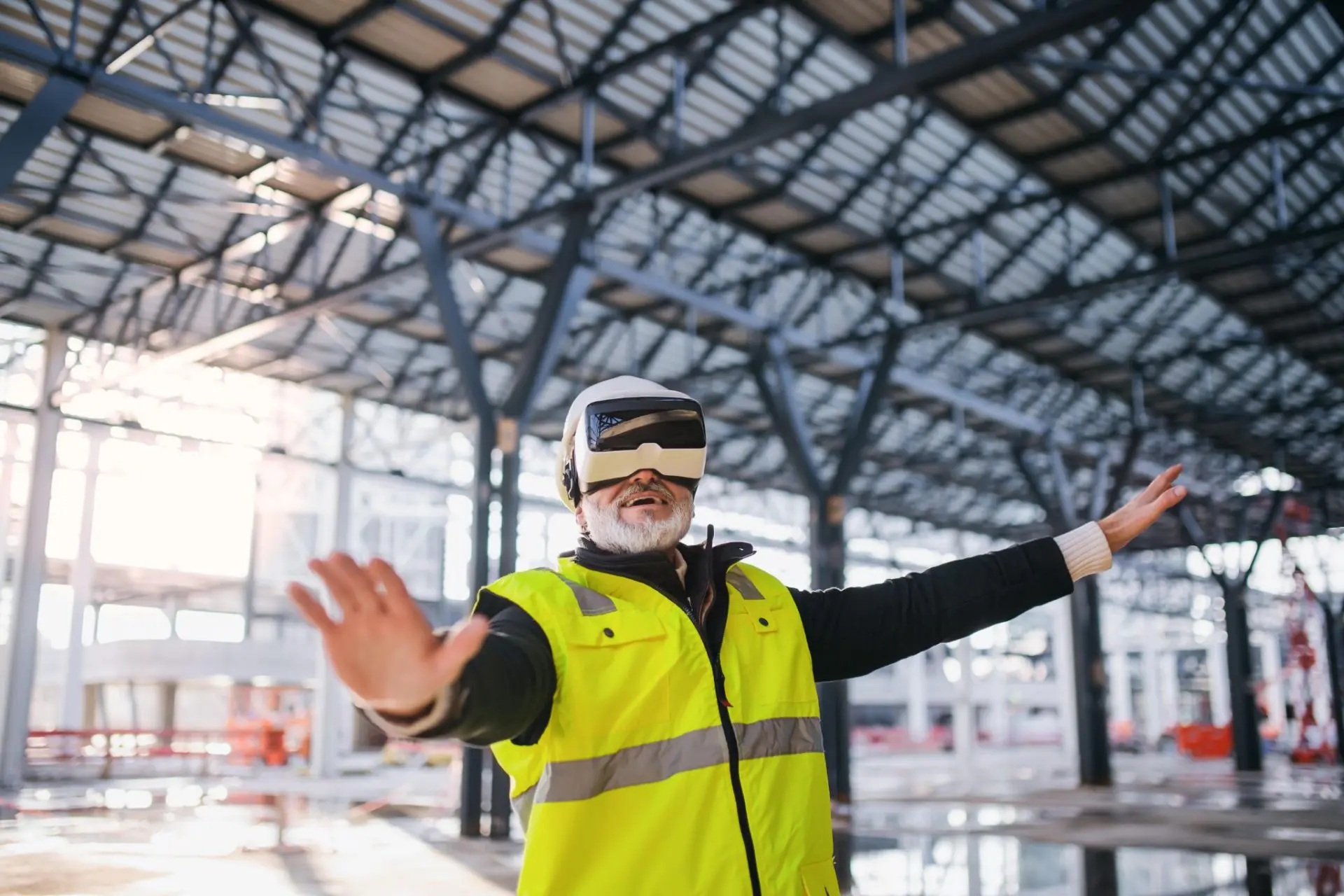 FedEX Ground used VR-based training only to witness impressive results. The company wanted to curb turnover rates which it successfully achieved with the help of VR. The technology was implemented in the truck package delivery division to train newly hired employees on safety best practices while loading and unloading packages.
Advantages of virtual reality training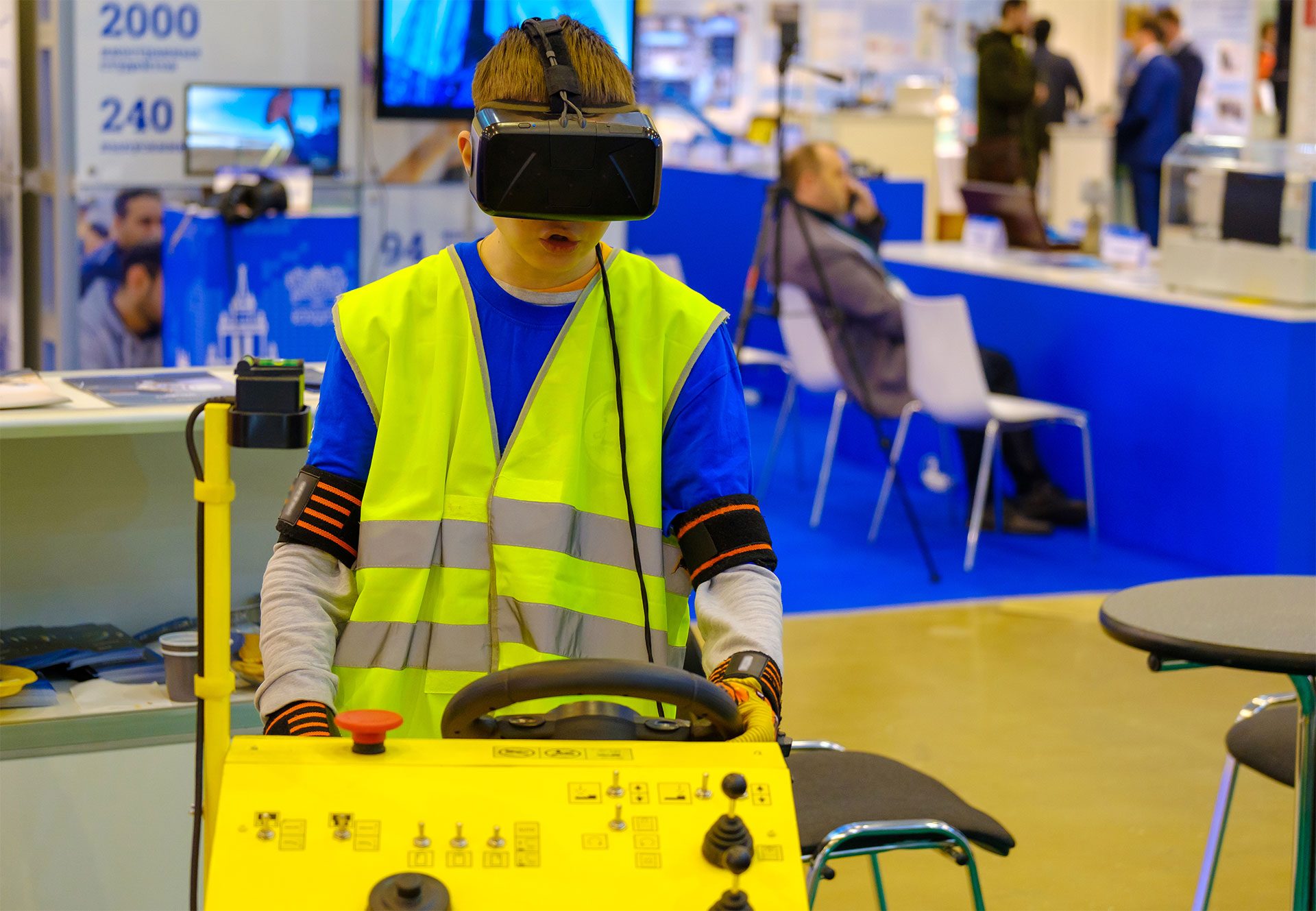 There are multiple benefits of implementing VR in industrial training and enterprise training. The technology employed in virtual reality replicates the real environment with the aid of highly advanced visual and audio experiences. The main advantage of virtual reality is that it tricks one's brain into believing the virtual environment as real, thus making the training sessions more fruitful than ever. Here are a few key advantages of virtual reality training:
1. Employees can be trained four times faster
The main objective of training sessions is to upgrade and polish employee skills in line with the new developments taking place in an organization. Spending too much time on training is not practical. With VR, training can be completed much faster without compromising the quality. Classroom training is time consuming since employees take much longer to learn and grasp complex concepts compared to VR where practical training immediately clears all confusions.
2. Results in more confident employees
A training session can be termed successful only if the employees are confident enough to apply the learnings while on duty. Virtual reality training greatly boosts confidence since it trains them in a stress-free environment. With the improved quality of training, they are in a better position to perform their duties with accuracy and perfection. The gap between learning and application of skills is significantly reduced.
3. Better emotional connection with VR content
Passive learning doesn't actively engage employees. Employees learn and remember better when they are a part of the experience, not when they are just silent spectators. By incorporating VR courses into the training process, employees are literally immersed in the environment which helps develop a strong emotional connection with the learning content.
4. More focused learning
There are several organizations that simply send a video as a part of training and expect employees to complete the course by watching the video. But unfortunately, most employees don't watch such videos attentively. It is easy for them to get distracted. In case of VR training, employees are completely immersed in the simulation environment which leaves no option other than giving their undivided attention. Employees can't be distracted in a VR setting.
5. Highly cost effective
Virtual reality training is actually cost-effective in the long run. While the initial investment may be greater than traditional training methods, it saves money in the long run considering the numerous benefits it offers in terms of time saved and higher productivity. If you consider the various shortcomings of traditional training, you will realize that it is not a profitable investment to make.
Advantages of virtual reality training
Though VR is known to boost productivity to a great extent, organizations are yet to implement VR for training purposes on a wide scale. There are some challenges that need to be addressed before VR is extensively utilized in organizations. Here are a few challenges that have restricted VR from realizing its full potential.
1. Discomfort associated with wearing VR headsets
Some learners may experience discomfort while using VR headsets. Headaches, eye strain, nausea or running into other objects are some of the inconveniences that learners may experience as a result of VR headsets. But organizations can overcome these challenges by reducing the duration of training sessions. Short training sessions or short breaks between every two sessions can help.
2. High upfront costs
The upfront cost of implementing VR technology is slightly higher than traditional training methods. This is one of the reasons that have held back organizations from implementing VR. The hardware and software together can add up to a substantial amount. Plus, customized content can further increase the cost. Small organizations, especially, are more reluctant to invest in VR due to this reason.
3. Inexperienced vendors for VR content creation
The lack of in-house resources compel organizations to outsource which sometimes results in gaps in development and less collaboration. While there is nothing wrong in outsourcing VR content creation, some organizations hire inexperienced vendors resulting in substandard results. It is important to outsource only to those VR companies that have proven expertise.
4. Averse to new technologies
A small percentage of people may be averse to new technologies. This is usually observed among older people who aren't comfortable adapting to new training methods. Business owners who themselves aren't tech-savvy might disapprove of VR training.
Solutions to tackle barriers in wide scale VR adoption
Like with everything, each challenge has a solution; we just need to find it. Fortunately, the industry is moving fast and with latest inventions like Oculus Quest 2 headsets , motion trackers and enhanced haptics coming up the industry has already found some solutions with regards to wide scale adoption of VR in training.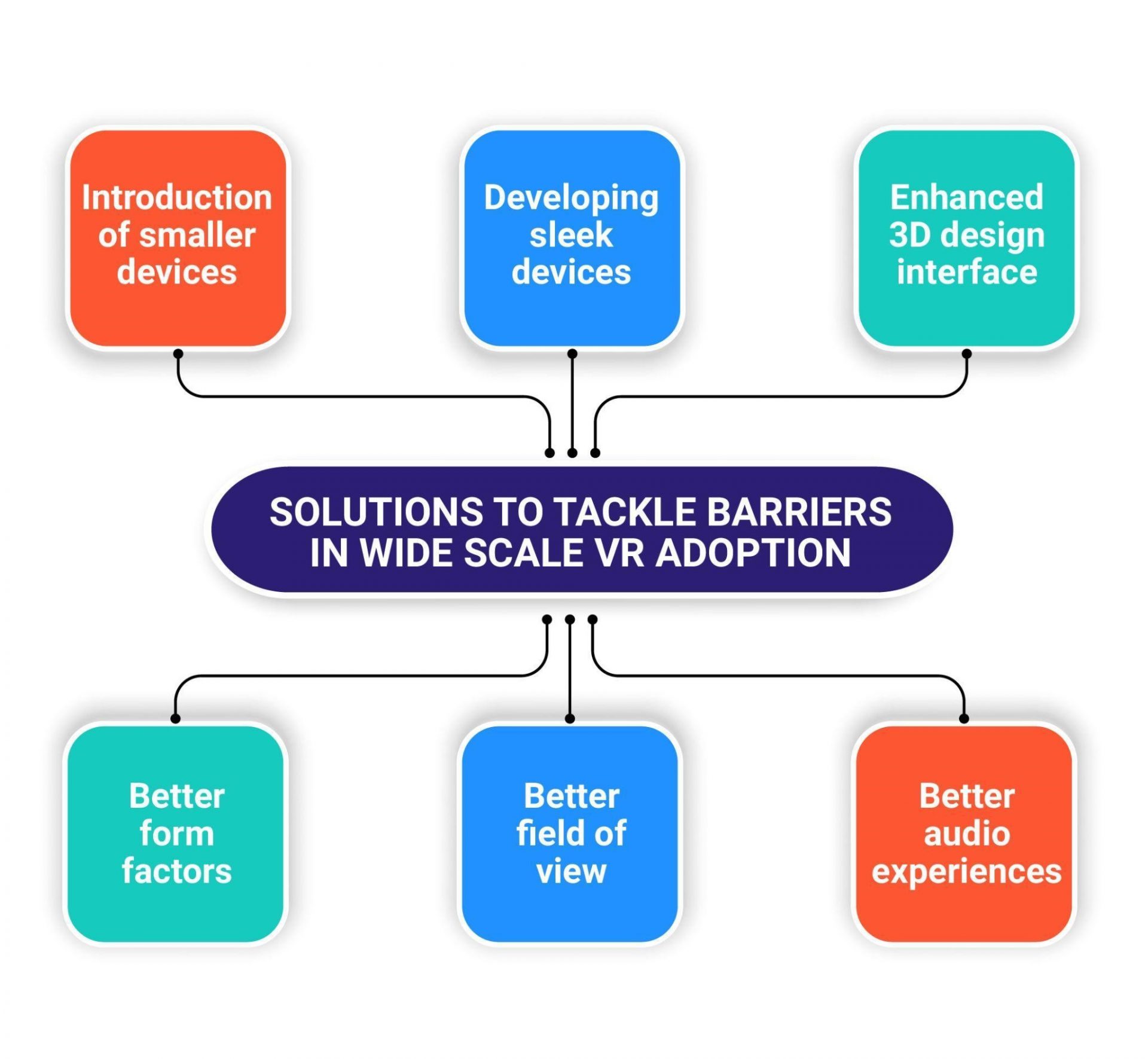 Future trends in VR
An organization need not do away with traditional training methods completely to incorporate VR. VR technology can be easily blended with traditional training methods. Companies that have already employed VR in enterprise training by turning their analog training modules based in Power point presentations and written manuals to digital lessons with VR have shown positive results. VR training was reported to be 52% more cost effective.
The VR market is expected to grow at a CAGR of 48.7% over the period 2021 – 2026.
Improved headsets are one of the important developments to expect in the VR industry. VR headsets with customizable hardware will soon be available at an affordable price. Remote training is gaining popularity in the wake of the pandemic.
Haptic feedback is another area where VR technology is expected to make significant improvements. Haptic feedback refers to creating an experience of touch. With haptic feedback, VR for industrial training is going to be more beneficial than ever. In addition, the onset of 5G will open doors for more efficient use of VR as it facilitates streaming of VR content directly to headsets from the cloud.
With new advancements in artificial intelligence (AI), VR is going to strengthen its hold in the enterprise segment. Learner engagement and retention are higher in companies with VR training. Driver training, soft skills and safety compliance are the three core areas of VR applications in enterprises. VR is going to lead its way in training owing to its contribution in creating safer, knowledgeable employees with less turnover rates.
Key takeaways
Virtual reality creates a real world experience with the aid of a virtual environment. VR in enterprise and industrial training can effectively tackle the negative perception of orientation among employees. High turnover rates are a major concern for tough jobs. An organization that is stuck in hiring and training can hardly make any progress.
Virtual reality eliminates the risk involved in training. The obstacles encountered while offering hands-on training for demanding jobs can be overcome with VR technology. Employees too look forward to training sessions that actually improve their confidence and performance.
Traditional training sessions that take longer hours but fail to bring the desired change in employee performance are clearly redundant and a waste of money. VR in the long run reduces onboarding time and safety risks and eventually paves way for consistent productivity. VR technology is a smart investment for organizations and it will be highly profitable in the long run.
A plethora of businesses have successfully used VR for staff training, prompting more and more businesses to jump on the bandwagon. Yours should too.
Tecknotrove is a leading provider of VR simulation solutions and has worked with multiple industries including mining, aviation, automotive and military, defence and nuclear training. Tecknotrove specializes in developing customized VR training solutions, and has helped several organizations to scale their training by using VR simulation technology . With extensive focus on addressing industry challenges, the company's core expertise lies in creating customized virtual workspaces similar to the real world which is highly effective for industries for imparting quality training. To know more about how your organisation can benefit from VR Training , contact our team on sales@teknotrove.com.