Surface Mining Simulator
Tecknotrove specialises in design and development of Mining Equipment (HEMM) Simulators and Virtual Reality Solutions. Surface Mining Simulator are designed to meet the needs of mining companies , vocational training institutes and construction companies. The simulators are deisgned for training novice operators on basics of HEMM operation to training experienced operators on improving productivity and safety in operations. Tecknotrove offers a range simulators with option of conversion kits which allows training on different equipments on the same simulator.
Tecknotrove offers a wide range of HEMM training simulators that are exact replicas of actual equipments. Mining Equipment Simulators are designed for range of mining equipments with different capacity and sizes for dumper, dozer, loader, excavator, grader. Tecknotrove provides a range of solutions right from standalone desktop based driving simulators upto advanced training simulators with motion systems. We offer site specific group training connecting multiple equipments operating together in group on the same site. In addition, Tecknotrove offers setting up and running technology enabled learning & development centers for its customers.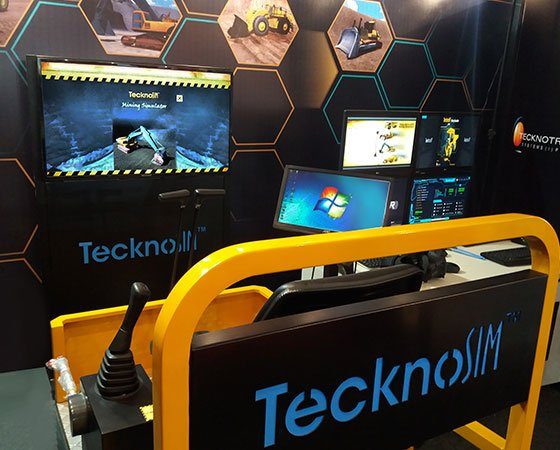 Construction Simulators
TecknoSIM Offers a range of cost effective training simulators for training on construction equipment like excavator , tipper ,backhoe, bulldozer, grader . The entry level simulators are portable desktop solutions that are easy to set up and ideal for organisations that are looking to explore simulation for the first time or training large numbers of people at the same time . Advanced simulators can be used for training experienced operators for improving productivity and safety during operations .
Product Range of Surface Mining Simulator
Improving safety, productivty and efficiency is critical for every mining operation. Tecknotrove offers highly realistic simulators and virtual reality training solutions for training operators on wide range of mining equipments. TecknoSIM simulator range is designed for equipments with different capacity and from different manufacturers. In addition Tecknotrove offers convertible kits that are interchangeable equipment kits which fit onto base simulator platforms allowing a range of different equipment to be simulated.
TecknoSIM Benefits
Customized Training Program
Standardized Training
Reduced Machine Downtime
Emergency Situation Preparedness
Reduced Fuel Consumption
Improved Tyre Life
Customized Training Program