Many incidents occur on the airside each year due to bird strikes, runway incursions, ground handling incidents, foreign object debris, airside vehicle collisions, airside security breaches, weather-related incidents, and technical issues with aircraft.
Vehicles sometimes collide with aircraft, causing damage to the fuselage or other parts of the aircraft.  For example, A Boeing 767-300 aircraft departing Delhi was pushed back into a stationary and out-of-service Airbus A320 making both aircraft unfit for flight in August 2017. In another accident, a catering vehicle and a ground-handling vehicle collided with each other leaving a ground-handling staffer injured at Dabolim airport in November 2019. Recently a minor ground collision between two planes was reported at Dubai International Airport in July 2021. One of the aircraft was impacted on the tail by another aircraft during the incident though no injuries were reported.
All incidents big or small, impact safety & efficiency and mean huge financial losses for the aviation industry impacting airports' operating budgets, delay rates, and overall reputations.  Ground handling operations remain a significant source of accidents, injuries, and deaths that are totally avoidable. At a time when air travel demand is rising and airlines are looking to increase capacity and average load factors are reaching new heights it is the time for airports and airlines to work together to promote efficient and safe ground handling operations 

Need to prevent aircraft damage
Aircraft damage sometimes occurs due to non-conforming behaviors by ground staff in high-risk environments due to a lack of training, supervision, and enforcement of protocols. Damages should be detected and reported immediately to the concerned individuals.
Damages to aircraft due to ground-handling equipment are a big concern as they can lead to major disruptions in the schedule which eventually results in wasted time and money for all parties involved. Besides, the exorbitant repair expenses arising from such incidents are a different challenge altogether. Repairs involving aircraft can take anywhere from a few days to several months depending on the extent of the damage. Repairing these damages costs a lot of money and flight safety is significantly compromised. Undetected and unreported damages pose a big risk to the safety of crew and passengers.  Recent studies show that the annual cost of ground damage could double to nearly $10 billion by 2035.
4 ways to improve airside safety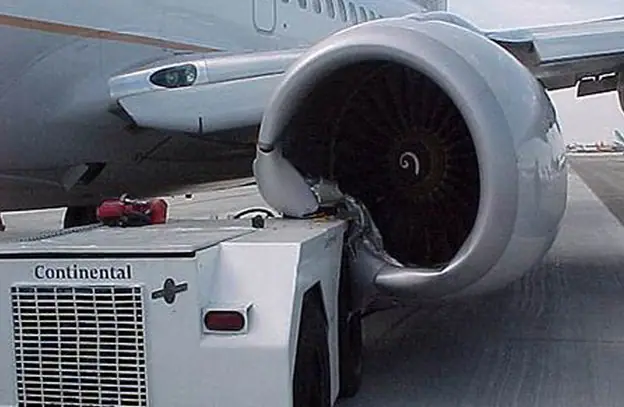 Improving airside safety is important for airports and airlines to reduce the risk of accidents and injuries to personnel, and damage to aircraft. Airports must invest in technology and infrastructure to improve operational efficiency and develop contingency plans to quickly respond to unexpected events. In addition, preventative measures such as regular maintenance and training for personnel will also reduce the likelihood of flight disruptions due to equipment failure or human error. Here are a few effective ways to improve airside safety:
Safety Culture
A strong safety culture is critical to maintaining airside safety. This includes training employees to report safety concerns and take prompt actions to address the issues. Standardization of procedures for aircraft parking, loading and unloading, and taxiing is vital to reduce the risk of accidents on the airside and also helps in  improving the safety culture.
Improved Training and Assessment
Modernizing training for ground handling personnel is critical to maintaining airside safety. Despite the trend of growing automation GSE operators are still essential in making ground operations as smooth and safe. Hence regular training for GSE operators ensures that everyone remains up-to-date on best practices. Training Simulators and VR training Solutions have proved to be very effective when it comes to ground handling training.
Maintenance of equipment
Maintenance of ground-handling equipment is essential to ensure that it remains in good working order and does not pose a risk to personnel or aircraft. Poor equipment maintenance is among the top reasons for safety hazards. Maintaining ground-servicing equipment will avoid schedule disruptions and costly delays. Regular training on aircraft maintenance in a virtual environment is saving millions of dollars for the industry .
Use of technology
Technology is becoming an enabler of better safety in ground handling operations. The use of technology such as sensors, cameras, and automated systems can help improve airside safety by detecting hazards and alerting personnel to potential risks.
The importance of GSE training
GSE refers to the equipment and vehicles used on the ground to service aircraft, such as baggage loaders, fuel trucks, ground power units, and tugs. Ground service equipment (GSE) training is essential to ensure safe and efficient operations. Let's look at a few reasons that explain why GSE training is important:
Safety
Operating any equipment safely is critical to avoid accidents, injuries, and damage to the aircraft and equipment. GSE training equips operators with strong skills to handle different maneuvers. Proper training helps operators perform their duties with the least hassle.
Efficiency
GSE training is critical to increasing efficiency. Operators who have undergone proper training will help reduce turnaround times and increase productivity. They can perform tasks quickly and accurately, reducing delays and improving on-time performance. Heavy
Compliance
It is important to comply with regulations and guidelines set by various organizations when conducting operations on the ground. GSE training ensures compliance with all the required regulations and guidelines.
Cost savings
An operator with no training is likely to cause damage to the equipment. Equipment like tugs and tractors are used to move large equipment like lavatory carts or bag carts. There is a high possibility for human error when operating such complex equipment which can lead to damages, thereby increasing maintenance costs. GSE training will reduce maintenance costs and increase the lifespan of the equipment. It will also reduce fuel consumption leading to cost savings.
Customer satisfaction
Efficient and safe GSE operations help ensure that flights depart on time and that passengers can get to their destinations on schedule. This leads to increased customer satisfaction and loyalty.
Role of Simulators in GSE Training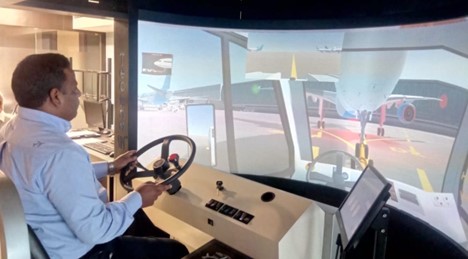 Simulators provide a realistic and controlled virtual environment for the training and testing of GSe operators. Simulators play a critical role in imparting high-quality training to ground workers and are the most effective training method for knowledge retention. Let's look at the applications of simulators in improving airside safety:
Training
There is more than 25 ground handling equipment that services an aircraft before takeoff and after landing. It is practically impossible to train all the GSE operators on an actual aircraft. Hence simulator training proves beneficial. Simulators are actual replicas of airside equipment that provide realistic airside environments and training scenarios for ground handlers. An aircraft pushback simulator can help personnel train effectively on aircraft pushback and tow procedures without using actual equipment. Emergency procedures and adverse weather conditions can be replicated in the simulated environment, preparing the personnel to respond quickly when the situation demands.
Testing
Simulators are beneficial for testing the skills of GSE operators before recruiting them or putting them on an actual airside.  Simulator testing allows for potential skill gaps to be identified and addressed before they become a safety concern. Simulators have also proved beneficial when it comes to testing new equipment, procedures, and technologies before they are implemented in real-world situations. This can include developing better methods for detecting and avoiding incursions on runways, improving communication between pilots and air traffic controllers, or testing new safety systems for unmanned aerial vehicles (UAVs). You can use simulators to test the effectiveness of new pushback tugs, cargo loaders, fire trucks, and baggage tractors deployed on the airside.
How are TecknoSIM Training Simulators helping the Aviation industry  improve their efficiency and effectiveness?
SIA Engineering Company in Singapore, one of the world's largest and most reputed engineering companies in the aviation industry, was looking at new technologies to improve the effectiveness of its line maintenance team. SIAEC identified that training simulators with a virtual environment could help in training its line maintenance engineers. Tecknotrove offered customized simulators for SIAEC to train ground handlers on safe airside operations. Airside driving simulator and Aircraft pushback simulators were deployed at Changi airport and helped in training the SIAEC team in improving the safety and efficiency of their airside operations. It reduced the need for actual equipment for training and equipped ground handlers with the required skills to respond to rarer events.
Delhi International Airport Pvt. Ltd, one of India's largest International Airports, was looking for a  testing tool that could help them identify the skill gaps of GSE operators before they were issued the Airport Driving Permits. Tecknotrove developed airport driving simulators to train and test drivers in the virtual replica of Indira Gandhi International  Airfield (IGIA). The scenarios were virtually mapped and customized to test operators on specific scenarios on the layout of Indira Gandhi International Airfield. The airport driving simulators were installed at the IGIA in June 2019 and have been helping the airport make its Airside safe and productive since then.
Conclusion
Training Simulators have numerous applications in the aviation industry. Simulators are a valuable tool for airport ground handling personnel, providing them with the essential skills and experience to perform their duties safely and efficiently. The safety of passengers, crew, and ground handling personnel is important in the aviation industry. Simulator training allows ground personnel to practice a variety of tasks in a safe, controlled environment, reducing the risk of accidents and incidents.
One of the most significant advantages of simulator training for ground personnel is that trainees can repeat lessons and refine and perfect their skills. It can simulate scenarios, including emergencies, which can be difficult or impossible to recreate in real life. Simulator training is more cost-effective as it eliminates the need to use actual aircraft or equipment, which can be expensive to operate and maintain.
About Tecknotrove
Tecknotrove Systems is a pioneer in providing world-class simulation solutions for the Aviation industry. With customized simulators suitable for critical training applications, we have catered to Airlines, Airports, and GSE ground handlers in over 26 countries around the world.  To know more about the simulation solutions for your organization's training needs. CContact the team on sales@tecknotrove.com .