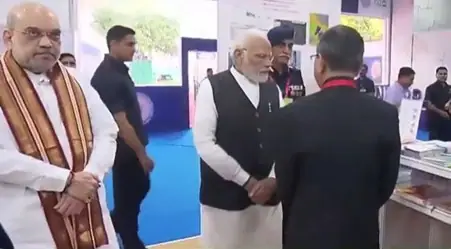 Tecknotrove Systems exhibited at 3rd Session of National Platform for Disaster Risk Reduction (NPDRR) – 2023  from 10th – 11th March 2023, Stall No. D 5, Vigyan Bhawan, New Delhi, India
It was truly an honor to get the opportunity to showcase VR training solutions for Disaster management and emergency preparedness at NDPRR in Delhi in the presence of  Hon Prime Minister Shri Narendra Modi and Home Minister Shri Amit Shah , DG NDRF Shri Atul Narwal.  Special thanks to team at Agnii Mission for the support during the event
It was a privilege to meet and interact with the team from NDRF who led the Turkey Earthquake Rescue Operations in Feb 2023. NDRF Heros of #operationdost who saved lives after the earthquake disaster in Türkiye and Syria rescued two little girls of 6 and 8 years of age each.  NDRF Team , SDRF team experienced the Virtual training designed for Search and Rescue Operations at  National platform for Disaster Risk Reduction Event in Delhi last week.
Natural disasters like floods, earthquakes, cyclone, and catastrophic accidents like terrorist attacks, emergencies and nuclear disasters are now a part of our reality.  The complexities of situations like these are larger than life and make it very difficult for the emergency forces and disaster management units to get trained for it. Virtual reality can play an important role in training the first responders in combating Natural or Manmade Disasters. Training in a virtual environment  is not only safe and cost effective but also impactful as it can recreate situations like Flood, Landslide , Cyclone , Forest Fire , Earthquake , Tsunami which is not possible in real- life training. Senior officials from NDRF , SDRF and Ministry of Home Affairs experienced the TecknoSIM disaster management training solutions on Virtual reality.
During the event, the Prime Minister Of India Shri Narendra Modi inaugurated the exhibition for showcasing innovative ideas and initiatives, tools, and technologies in the field of Disaster Risk Reduction
Speaking about combining local resilience with future technology PM Modi said, "Enriching local technology and material with the new technology is the need of the hour. When we link the examples of local resilience with future technology, only then we will be able to do better in the direction of disaster resilience."
"Recognition and Reform are the two main components for strengthening disaster management", the Prime Minister said.
The  event may have come to an end but the mission has just begun .Tecknotrove will continue to innovate latest in training and simulation to prepare the best in class training model related to disaster resilience not only for India but for the whole world.
For more information on similar solutions contact the team on sales@tecknotrove.com