Driving on Indian roads can be a stressful experience because of the growing concern of aggressive driving , road rage, traffic, chaos and increasing road accidents. How is it then one can ensure that they are safe on the road. India's bustling streets and highways witness countless vehicles every day, making it crucial for drivers to be equipped with the necessary skills and knowledge. This is where driver licensing plays a pivotal role in India.
NEED FOR IMPROVING ROAD SAFETY IN INDIA
India, with its rapidly growing population and expanding infrastructure, faces numerous challenges when it comes to road safety. The statistics are alarming. According to a recent World Bank Report, India has emerged as the global leader in road accident fatalities, contributing to 11% of the total worldwide deaths caused by such accidents; witnessing 53 crashes in an hour, killing one person every 4 minutes.
In-depth analysis forecasts the cost of traffic accidents in India while taking into account the issue of underreporting using collision ratios from the Ministry of Road Transport and Highways statistics. A staggering estimate of Rs 5.96 lakh crore, or 3.14 percent of the country's GDP, is suggested by the research. This highlights the need for effective road safety measures and illustrates the substantial financial losses incurred by traffic accidents.
Main factors leading to the increasing road accidents include:
 Lack of driver awareness and understanding of responsible driving.
 Lack of proper driver training and education·
 Disregard for traffic rules and a rise in reckless behaviour.
 Inadequate enforcement of traffic regulations.
 Poor implementation ofExisting laws on speed limits, drunk driving.
 Poor road infrastructure design
 Lack of pedestrian pathways and dedicated bicycle lanes.
Poor visibility of road signage.
Lack of intelligent transportation systems to enhance road safety.
DRIVER LICENSING IN INDIA
The Indian government has introduced the 2023 Driving Licence New Rule, eliminating the need for multiple visits to the RTO for obtaining a new driving licence. Under this rule, applying for a driving licence has become easy. Interested individuals can now conveniently apply for a new driving licence through the official website link: parivahan.gov.in.
Regional transport offices(RTOS) in various locations across India have included modern driving simulators for testing drivers as a progressive development. This process of testing eliminates the need for actual vehicles to be driven during the test, resulting in a safer and more regulated environment. The Road Safety Fund has invested Rs 33.90 million in placing 65 driving simulators strategically at Uttar Pradesh's RTOS stations.
Driving simulators mimic various road conditions and penalise mistakes like not wearing seatbelts. Those who fail the initial test get simulator training, tracking their progress and identifying errors in detailed reports. This modern method of testing drivers on simulators aims to reduce mistakes, enhance road safety, and streamline licensing.
BEST PRACTICES OF DRIVER LICENSING AROUND THE WORLD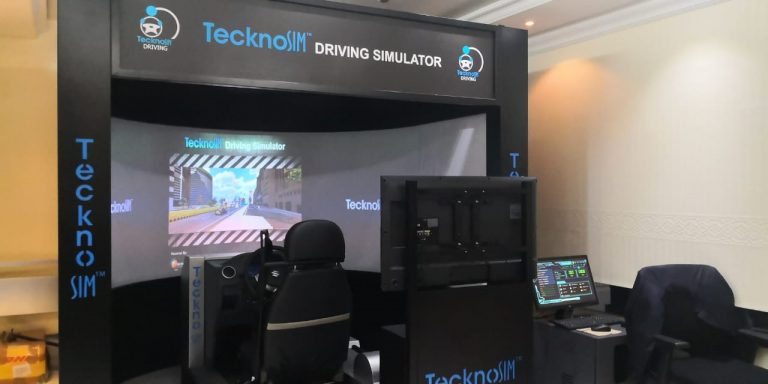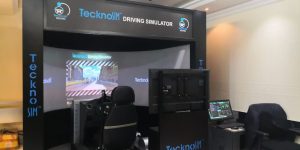 To maintain road safety, several nations have implemented their own best practices when it comes to driver licensing. Let's examine some real-world examples from places like the United Kingdom, the United Arab Emirates (UAE) Oman and Singapore.
United Kingdom: UK's robust driver licensing system prioritises road safety with thorough theoretical and practical tests covering rules, driving skills, and reactions to diverse situations. Education readies candidates for urban challenges and responsible driving. Innovative tech like online applications and digital testing streamlines the process, reducing complexities.
United Arab Emirates:  The Abu Dhabi Police in collaboration with the Emirates Driving Company (EDC) have launched an initiative, where learner drivers will undergo simulation training. The main objective is to improve road safety in the Emirate and provide a real-life simulation of what it is really like to drive in inclement weather conditions. Everyone trained for a driving licence in Abu Dhabi will be trained on driving simulators. Several driving schools in the region like Belhasa Driving School, have deployed a Simulator Training Facility to make the student familiar with driving before actually going on roads.
Singapore: Singapore's meticulous driver licensing system prioritises precision and discipline. The structured program covers classroom, practical, and simulator sessions for a comprehensive urban understanding. With an emphasis on defensive driving and traffic rule adherence, supported by a demerit point system, Singaporean drivers are confident and safety-conscious on city roads.
Oman : The Royal Oman Police utilises modern technology and advanced tools for the training of vehicle drivers and increasing their traffic awareness. The electronic driver's testing allows the applicants to perform the preliminary test required for obtaining a driver's licence electronically. The e-system enables the applicant to book an appointment and do the theoretical tests electronically following which the applicant moves to a driving simulator to train and test their driving skills.
INNOVATIVE DRIVER LICENSING PROGRAMS
Innovative driver licensing programmes are changing the pathway of the driving licence system. These innovative methods go beyond typical testing and training methods, using cutting-edge technologies like virtual reality, training simulators, online driver testing  platforms providing real-time feedback. They not just prepare drivers for the road with new driver licensing programmes; but also design a safer and more efficient future for the highways.
Graduated Driver Licensing (GDL) program: WHO
The GDL program, developed by the WHO, is a comprehensive approach to improving road safety for new drivers. It aims to gradually introduce novice drivers to more complex driving situations, reducing their risk of accidents and injuries.
Under the GDL program, new drivers go through three stages: a learner's permit phase, an intermediate licence phase, and finally a full unrestricted licence. Each stage has specific requirements and restrictions that help build skills and experience while minimising risks.
However, who in India is placed under the GDL Program?
New applicants for a Learner's License (above 18 years, no prior license)
Driving licence holders under 25 years with licences less than 1 year old: 6-month Provisional/ Probationary plates, Test 3 (60-min zero violation road test)
Licence holders with over 3 violations in 12 months: 6-month P plates, Test 3 again.
3gl Driver Licensing – IIT Madras
A groundbreaking driver licensing approach, named 3 Gate Licensing (3GL), was inaugurated at the National Scientific Road Safety Conclave by IIT Madras. This prototype evaluates drivers based on their behaviour, road safety knowledge and driving practices.
IIT Madras emphasized that the 3GL method involved applying theoretical learning in simulator and real- road situations, ensuring complete training before permitting a valid driving license. Additional Director General of Police and Chairman of the Special Task Force on Road Safety, Vinit Wankhede, highlighted the importance of technology's practical impact.
MAKING INDIAN ROADS SAFER WITH BETTER DRIVER TRAINING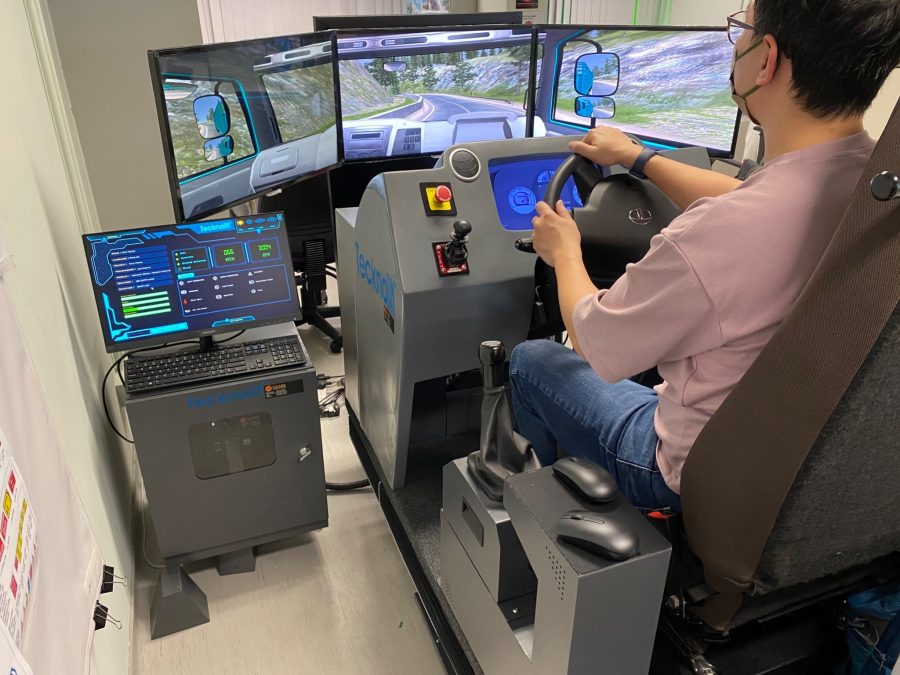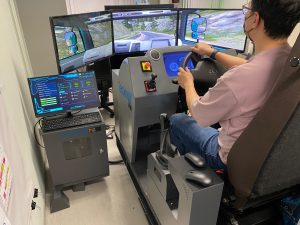 Urgent steps are needed to address the rising road safety issues in India. The increasing number of road accidents and fatalities emphasises the need for swift actions to create safer road conditions. Strengthening the driver training and licensing system is a crucial path toward achieving this goal.
In India and comparable developing countries like Africa, Philippines, Indonesia the driver training procedures have come under criticism due to their laxity and insufficient assessments. Numerous drivers acquire licences without adequate training or skills, leading to risky driving habits. This underscores the importance of enforcing strict rules and comprehensive testing procedures.
Incorporating advanced Driving Simulators can significantly enhance the awareness and skill level of the drivers by training them on realistic road conditions with actual hazards under complete safety. Immediate and targeted measures are vital to curbing road accidents and making the licensing system more robust.
According to Shri Nitin Gadkari, Hon Minister of Road Transport and Highways, the government intends to cut the number of fatalities (in traffic accidents) in half by 2025 and to zero by 2030. According to Shri Gadkari, the Stockholm Declaration on Road Safety in Sweden from February of last year (2020) aimed for a 50% decrease in traffic accidents by the year 2030. Shri Gadkari claimed that by 2025, India will succeed in this.
Tecknotrove has developed state-of-the-art Driving Simulators for light medium and heavy vehicles  that are designed to enhance driver training and evaluation processes. TecknoSIM Driving Simulators replicate real-world scenarios and environments, providing a safe and controlled platform for users to acquire practical skills and knowledge. For further insights into Tecknotrove's Advanced Simulator solutions, email the experts on sales@tecknotrove.com