In a plan to lower the road accidents involving 2 wheelers & make road travel safer, Mumbai Central RTO have deployed TecknoSIM motorcycle simulators at the Regional Transport Office to train motorbike riders  . The Road Transport Office has set up a training centre to evaluate driving abilities, knowledge of traffic rules and passenger safety of those visiting its premises for two-wheeler licences. . The RTO plans to train and test 5,600 licence seekers on a simulator this year.
The Motorcycle simulator is a replica of an actual 2 wheeler fitted with seat,  foot pedals , hand controls , ignition, instrument cluster just like the real bike. The visual od the road are displayed on the LED screen  The simulator is designed to  train and test the 2 wheeler  riders on different roads and weather conditions . The simulator trains the riding skills of the motor biker on city and highway roads including flyovers, traffic signals, zebra crossing , school areas At the end of the training there is testing module where the two wheeler licence seeker will be tested on his riding skills before issuing licence  . In addition to the driving skills ,the simulator also tests the behaviour of the drivers with pedestrians, jaywalkers or at  traffic jams on road.
"This model will be replicated in all the other RTOs of the city & will help licence applicants in a big way and help to inform the common people regarding the rules and regulations of riding and the importance of following it"- says Avinash Dhakne, Maharashtra transport commissioner.
166 people died in road accidents related to motorbike mishaps last year and Mumbai RTO is surely working towards it .The programme will ensure that 2-wheeler driving license candidates are trained and tested on the driving simulator before securing their two-wheeler license
" Tecknotrove is happy to contribute to such an important road safety project in India and will continue to deliver the best simulation solutions to meet the needs of training and testing of drivers." says Shantanu Gupta-  Director Tecknotrove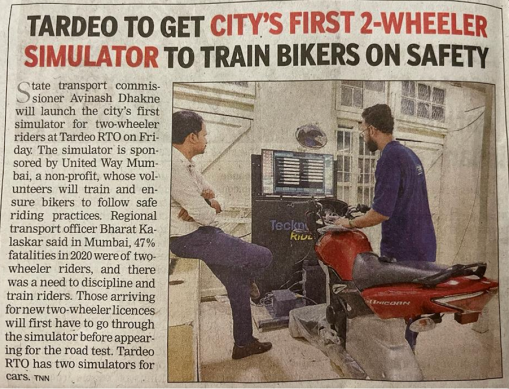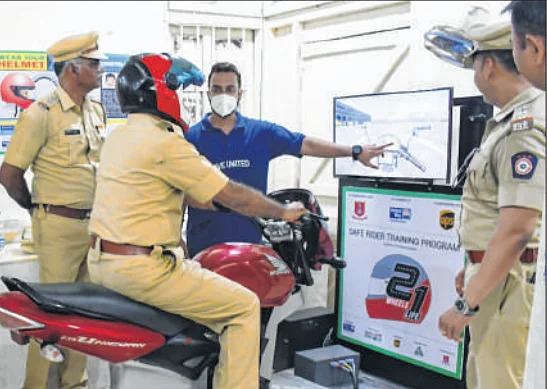 Picture Courtesy – Times of India and Free Press Journal