Tecknotrove celebrates its 20 years Anniversary this month. This is an important milestone for us and calls for celebrating the innovations and success of the past and reaffirmation of our vision for the future. Looking back at our journey, it feels like yesterday when Tecknotrove was incorporated with a small team and big vision to develop something new, that would make a real difference to the country, its industries, government, and society at large. We wanted to fill the gap in training and skill development and make a real difference.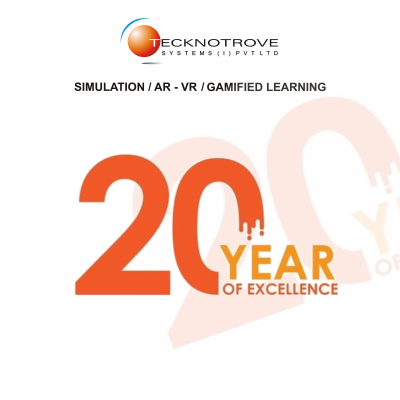 As I reflect on this journey I begin to see key events that really transformed us as a company and helped us emerge as a leader in Simulation and Virtual Reality: Finding the right partners who understood our value propositions, believed in our products and represented us in markets around the world. Our clients who believed in our innovations and trusted that we can solve their problems and challenges. They gave us an opportunity to work with them closely and develop state of the-art training solutions. Hiring the right Team who further fueled our vision with their passion and dedication that to this day sets us apart in this industry.
I am truly thankful to all these people who have worked and grown with us and believed in us.
Looking back it took us 3 years of continuous R&D, to develop India's first driving simulator, which changed the face of driver training. Tecknotrove was also the first to set up Digital training centres and Centers of Excellence (COE) which used the latest and immersive training technologies like VR, Simulations and Gamified learning for training and skill development. Since then we developed more than 30 innovative simulation solutions for industries like Automotive, Logistics, Mining, Aviation, and Defence that have been sold to clients all across the world.
Tecknotrove is proud of its achievements and innovations. Going forward, we promise to continue working relentlessly with more fervor and create innovative virtual reality simulation solutions that deliver the latest in training, testing, and research. We would like to once again thank and congratulate our partners & customers who believed in Tecknotrove. We look forward to your continued support and feedback. Please continue to reach out to us with your unique needs and we will continue to create the right training solution for your organization.
Kindest regards,
Shantanu Gupta
CEO- Tecknotrove Systems