The Indian military, with its rich history and steadfast commitment to safeguarding the nation, stands on the cusp of a new era. As India emerges as a global power, it is imperative that our armed forces adapt to meet the challenges of modern warfare head-on. The New Indian Military represents a paradigm shift in defense strategies and capabilities. The advancements in technology and an ever-changing geopolitical landscape, traditional approaches to national security are no longer sufficient.
In the continuously evolving landscape of warfare, strategic war planning has transformed profoundly. Conventional wars that were fought on the battlefield are a thing of the past. Modern warfare has embraced technology and is adapting to information warfare and asymmetric tactics, making it crucial for military planners to adapt to new realities. Modern technologies like artificial intelligence, data analytics, and real-time monitoring are integrated into war planning, demonstrating its sophistication and allowing military officials to make more informed judgements and modify their strategies rapidly.
Emerging Way Of War:
Crucially, one of the key elements of the new emerging way of war is the rapid advancement of military technology. Nations are heavily investing in research and development to stay at the forefront of innovation in areas such as cyber warfare, artificial intelligence, unmanned aerial systems, and advanced communication systems.
Increasing defence budget as well as technical developments to improve military capabilities and efficiency are stimulating the  demand for military simulation and training. Militaries around the world are expecting high-resolution, high-tech Military Simulators for use in training defense personnel. An increase in terrorist activities, wars, conflicts, and a rise in the military budget drives the growth of the global market.
The USA ($876.9B), China ($292B), Russia ($86B) and India ($81B) have the biggest military spending in the world. These countries have invested heavily on some of the most advanced technologies like M3 Bradley, M1200 Armoured Knight, DF-27, MON-200, MILAN 2T to name a few.  India has set aside 1.62 trillion rupees (U.S. $19.64 billion) to buy new weapons and platforms primarily sourced through domestic defence contractors during the 2023-2024 time frame.  In addition , Indian Defence has been developing its own weapons , tanks , helicopters and also inducting new equipment such as Prithvi Missile, Arjuna Tanks(MBT), Pinaka Multi Barrel Rocket Launcher, M-777 artillery, Apache Choppers, Chinook Helicopters, Rafale Jets, INS Arihant, INS Kalveri which are high end machines that deploy more cost and time to training
These technological advancements not only enhance a country's defensive capabilities but also allow for a more precise and strategic approach to warfare. Moreover, the integration of these technologies enables defence forces to respond effectively to diverse and evolving threats, ranging from conventional conflicts to asymmetric and hybrid warfare scenarios.
The current process of traditional methods of Defence training  in Army, Navy and Airforce includes Basic Training or Boot Camp, Advanced Training, Skills Training, Specialized Skills Training, Leadership Development Training, but mainly in a classroom environment or with actual weapons and equipment on grounds , which is not only expensive and time consuming but also unsafe . Virtual Training and Simulation is giving a new dimension to the traditional defence training by offering hands-on training experience that is scalable and efficient method training soldiers.
Training Simulators To Improve National Security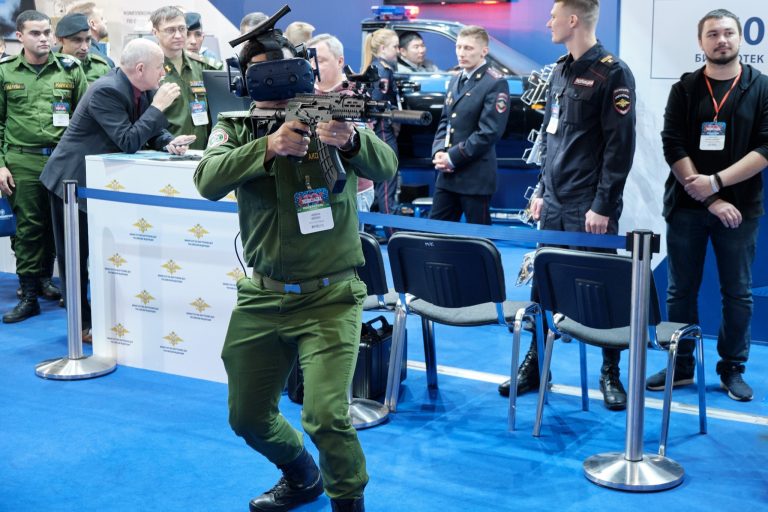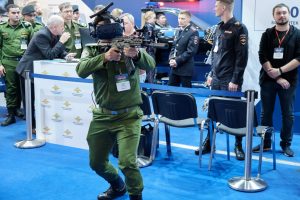 Below are some of the major countries in the world that use simulator training for military purpose:
USA Military:
The military juxtaposes simulation based training via physically simulated military      equipment (PSME) and/or virtual military equipment (VME). PSME techniques such as Close Combat Tactical Trainer  and Aviation Combined Arms Tactical Trainer  to simulate the physical environment, controls, and sensory inputs of a tank or aircraft. PSME development, use, and maintenance are costly, and soldiers may have limited access to PSME equipment.VME employs personal computers and other hardware in a manner comparable to commercial first-person shooter games.
African Military :  
African Military, with the budget constraints and logistical challenges is investing heavily in training simulators. Training simulators are proving to be solutions to improve training and enhance combat skills. Several African Militaries have recognised the potential of training simulators and incorporated them into their training. South African National Defense Force (SANDF) is using training simulators for pilot training, demonstrating feasibility and effectiveness of the technology. The Nigerian Army is partnering with simulation companies to develop training simulators for military training.
Russian Military :
Since 2012, Russia's military services have incorporated modern defence training simulations into their training cycles. Driving simulators for the Yars road-mobile ICBM were used, with the explanation that the Strategic Missile Forces were unable to train on actual equipment due to the need for constant readiness.
By 2016, simulations had been enhanced to include the Russian military units and the Iskander short-range ballistic missile system. High-priority systems like the S-300 air defence complex are simulated; new Su-34 bomber simulators will be released in 2021.
Saudi Arabian Military :
Saudi Arabian Military Industries (referred to as SAMI), a state-owned military company in Saudi Arabia is currently expanding its investments in various aviation systems, including unmanned aerial vehicles, military vehicles, ammunition, missiles, communication systems, radar and training simulators .
UAE Military: 
The United Arab Emirates is modernizing its armed forces and updating its training platforms. Its latest investment in Naval Doctrine and Combat Training Centre incorporates training simulators for a range of maritime-based missions — from bridge trainers that can simulate maritime environments to training on individual platforms.
New Indian Military Training :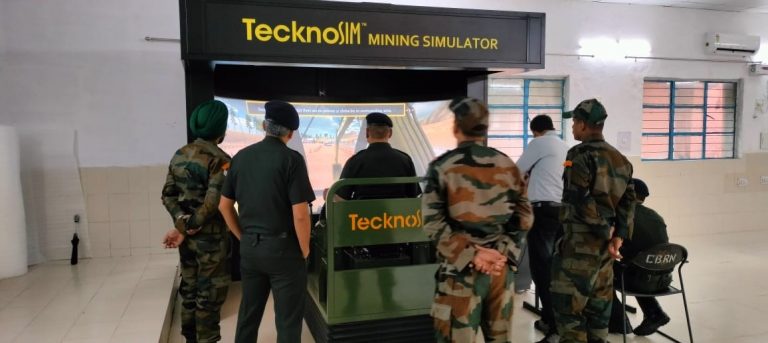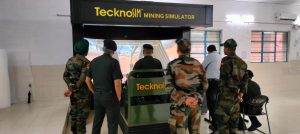 The new Indian military embraces innovation, leveraging cutting-edge weaponry, intelligence systems, and training techniques to stay ahead of potential threats. This transformation encompasses not only acquiring state-of-the-art equipment but also revolutionising training methods for our soldiers and national security. The Indian Military is working with Simulation companies in India to develop customised training simulators for preparing their troops .
Government Schemes like "Make in India" play an important role in increasing self-reliance by not only encouraging manufacturing of defence equipment but also the training simulators to support the use of those equipment . It is a strategy shift towards self-sufficiency in defence manufacture by minimising reliance on imports.
The Agnipath Scheme, which was approved by the Government of India on June 14, 2022, is the new entry point for aspiring soldiers who want to serve in the Indian army. Personnel recruited through this Agnipath Scheme are trained on advanced training simulators  to serve the country for four years. Agniveers are the new recruits under this scheme further promoting the concept of "Atmanirbhar Bharat".
Lately in 2023 the Army Training Command in India has formalised a partnership with the Rashtriya Raksha University to establish a ground breaking institution known as the "Wargame Research and Development Centre" (WARDEC) in New Delhi. This collaborative effort aims to introduce a unique training facility in India, specifically designed for simulation-based training, incorporating cutting-edge AI technology to create virtual reality war games.
WARDEC's primary objective is to provide the Indian Army with an innovative training platform. It will enable soldiers to engage in metaverse-enhanced gameplay, allowing them to undergo immersive training and test their strategic abilities in simulated combat scenarios. This collaboration marks a significant step towards modernising military training methods to enhance readiness and tactical acumen.
Advantages Of Simulator Training For Military :
Simulator training in the military offers a wide range of benefits that contribute to enhancing the readiness, effectiveness, and efficiency of armed forces. Here are some of the key advantages:
Provides Realistic Training Environments
Enables Safe Training And Reduces Risk
Simulation Training Is 4x Faster
Enables Repetitive Practice Without The Use Of Actual Weapons
Enables Adaptability To New Weapons And Vehicles
Provides Detailed Evaluation And Feedback
Enables Cross-Training
Reduces Environmental Impact
Makes Training Accessible 24×7
Enables Technological Integration
Tecknotrove India – Military Training Simulators
Tecknotrove, a specialist in simulator technology has been developing customised training simulators for over 20 years. Tecknotrove offers turnkey military simulation training solutions for combat and tactics, both in military air and land applications. Advanced Simulators Like the Infantry Weapon Training Simulator, Military Tank Simulators, Convoy Simulators  offer a range of benefits, including cost-effectiveness, safety, and adaptability to the military and defence . TecknoSIM Simulators provide soldiers with realistic training experiences where Soldiers can actually perfect skills before they get in combat.Simulation training significantly improves their skills and decision-making abilities while minimising risks associated with live exercises. For more information get in touch with us at sales@tecknotrove.com.