Until 2020, the lives of people around the world were normal and outgoing. However, 2020 and 2021 have been the most challenging and unusual years of all our lives where most of us have remained locked inside our homes. This has not been different from country to country or for the rich and poor. In his recent interview Bill Gates- Microsoft co-founder said that his social life was a lot more digital than it used to be and his personal world has never felt smaller than it did over the last 12 months.
As the pandemic confined everyone indoors, one thing that kept things going was digital technology. Technology accelerated 10x in the last two years which would have otherwise taken decades. Work from home, virtual meetings, online schooling, digital payments, online gaming, telemedicine, and virtual simulators training and digital transformation are becoming the new normal and way of life.
DIGITISATION IN TRAINING
As workplace learning is seriously hit by the pandemic, classroom training sessions have become practically impossible and companies are resorting to blended learning models using technologies like Virtual Reality, Simulation, and gamified learning to help them train virtually in remote situations and develop a pool of skilled manpower ready for jobs.
Being a leader in the training and simulation space for over a decade, Tecknotrove took responsibility to find unique ways to use technology and digitize training This article will shed light on the major challenges that the industry faced with respect to training and how Tecknotrove worked closely with industry to develop innovative solutions for training and helped businesses overcome the challenges.
HELPING INDUSTRIES MOVE THEIR TRAINING FROM ANALOG TO DIGITAL
Hands-on, self-paced training are some of the major benefits that lured organizations towards role of simulator training and digital transformation. Employees stay better focused and retain knowledge with immersive technology employed during training. Tecknotrove was in the forefront of assisting organizations overcome training challenges with its simulation solutions. Some of the organisations that Tecknotrove worked with for digital training implementation over the past 2 years include organizations like Linde, IIT Mumbai L&T, Maruti, Toyota, GMR, India Chemical Council as well as the Delhi International Airport.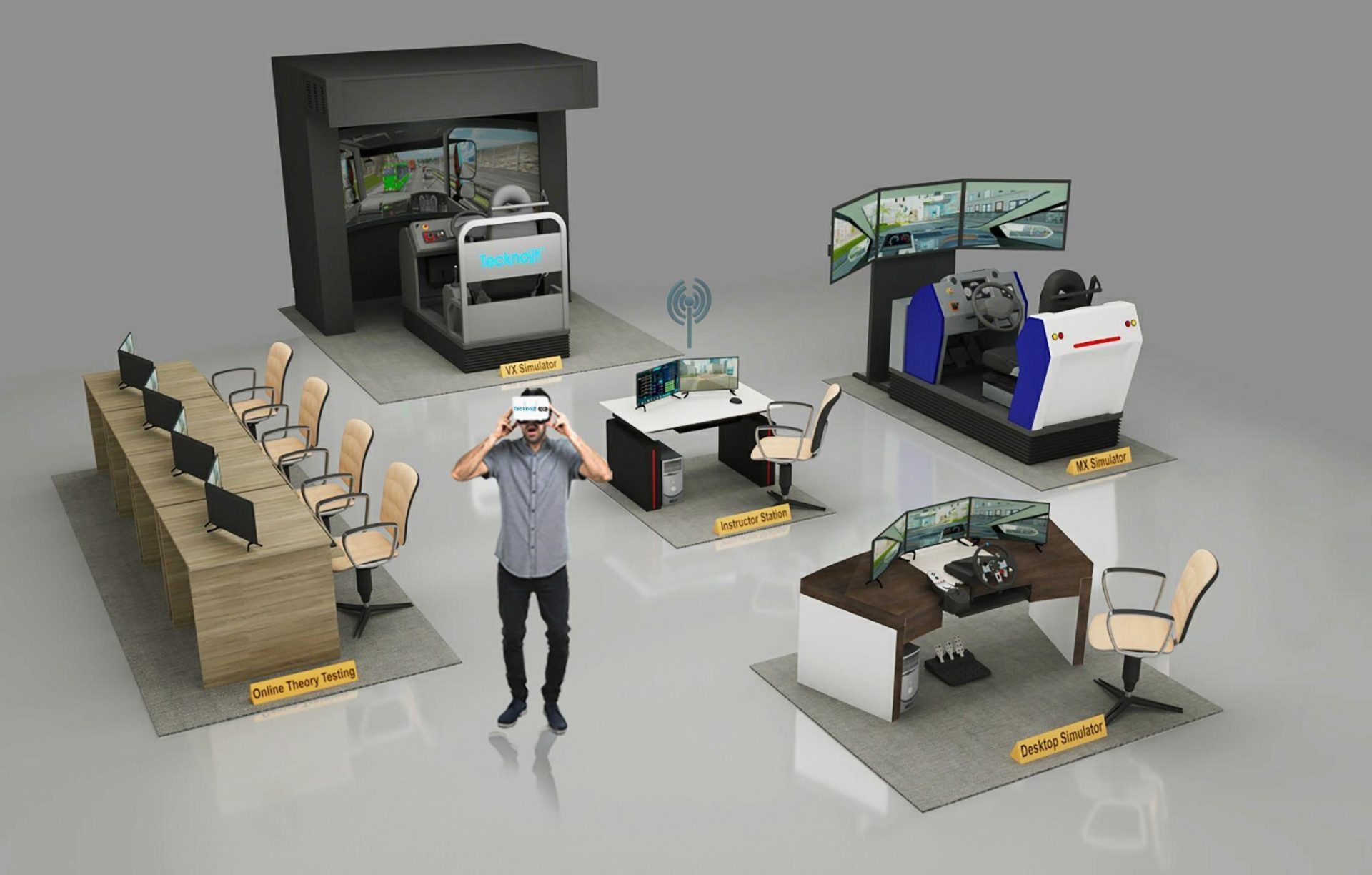 SIMULATOR TRAINING FOR HAZARDOUS GOOD TRANSPORTATION
Transporting hazardous goods from one place to another is a risky process and requires special skills. During the pandemic, there was an evident shortage of skilled drivers who could handle hazardous chemicals. Linde – a leading global industrial gases and engineering company appointed Tecknotrove – simulation and VR specialist to develop a simulation training program that would train drivers on hazchem transportation. Tecknotrove set up a simulation centre for Linde with a tanker truck simulator on which drivers could be easily trained in a safe simulated environment for safe transportation of hazardous goods on a variety of terrains and driving situations. Pedestrian crossing, distractions and other driving scenarios are easily replicated so drivers can be prepared with the most ideal response when driving on the actual road. The facility is training Linde drivers on defensive driving skills and giving them an experience of real-life consequences of negligence on road.

VIRTUAL TRAINING SIMULATORS AND DIGITAL TRANSFORMATION FOR TESTING DRIVERS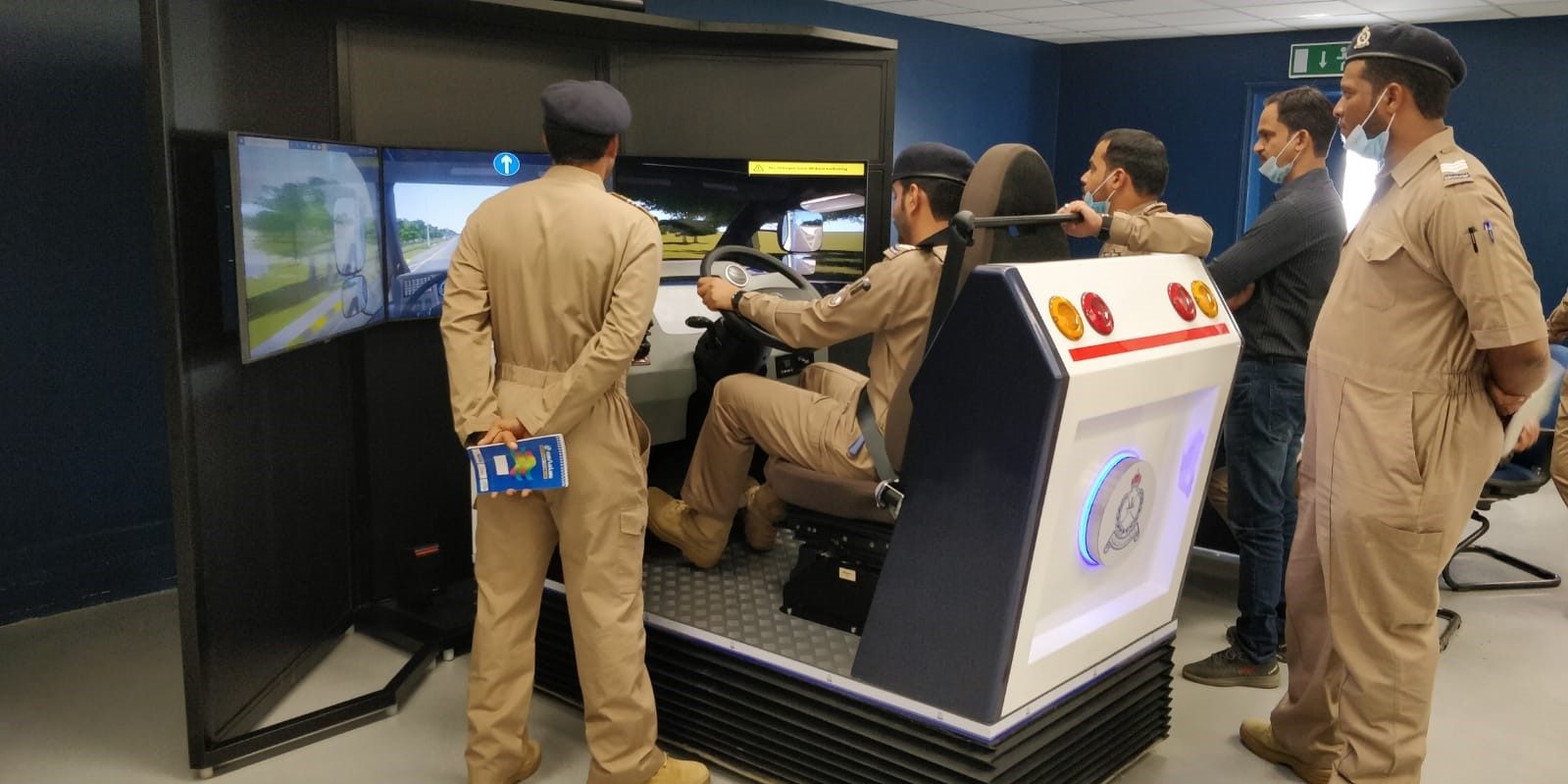 Effective training and testing of drivers are one of the most important prerequisites for road safety. The Royal Oman Police (ROP), in an attempt to improve road safety, partnered with Tecknotrove to supply driving simulators to train and test heavy vehicle drivers on Oman roads. The simulators are customized to suit Oman's driving conditions and designed in line with traffic regulations prevalent in Oman so that the drivers could be trained and tested in scenarios bearing close resemblance to actual driving conditions. The simulators facilitate training and testing in both Arabic and English so language barriers don't interfere with the learning process. The digitisation of driver training and testing will help Oman police develop the skills of their drivers faster and ensure that they are better acquainted with the terrains.
SIMULATORS FOR AUTOMOTIVE RESEARCH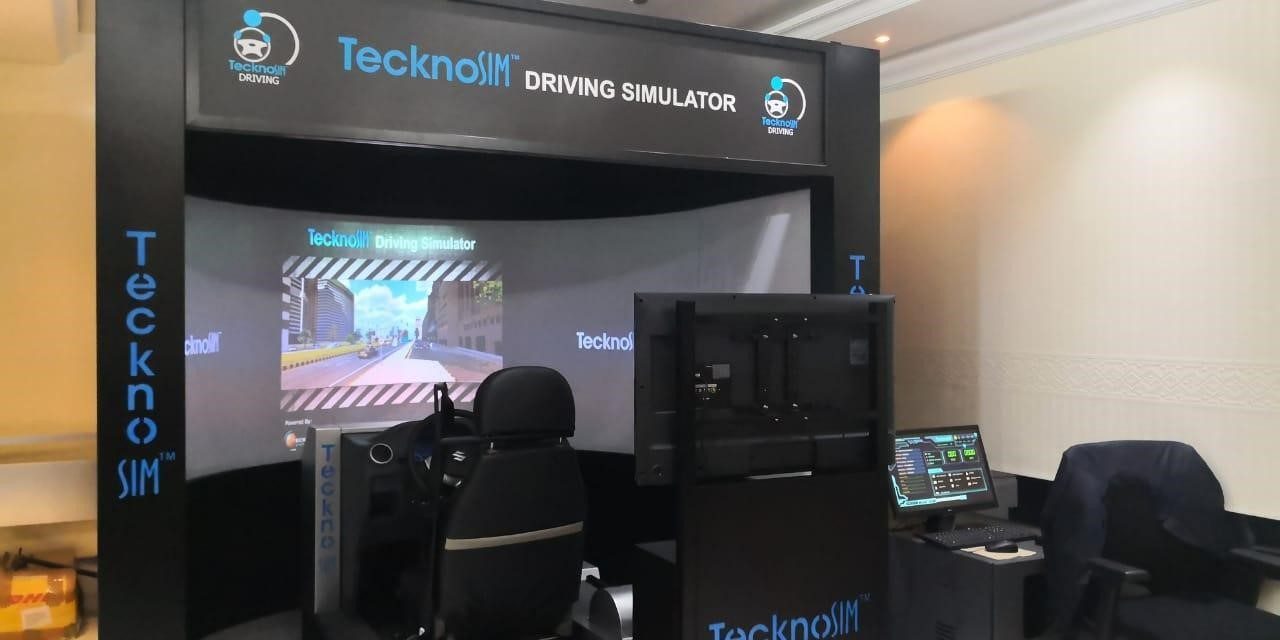 Driving simulators are in great demand by research institutes dedicated to assessing driver behavior on roads under various conditions. Driver behavior is affected by traffic conditions, weather, road engineering, distractions from digital devices or alcohol consumption. Such conditions cannot be tested on actual roads and requires a realistic simulated environment that can assess a driver's behaviour under a number of dangerous conditions without the actual risk.
One such example of a driving simulator being used for research purposes can be found in IIT Mumbai. In order to assess drivers' behavior on different roads & in traffic conditions, Tecknotrove developed a Motorcycle and Truck Simulator. The driving simulators installed at the research facility have customized software for a variety of research applications. This institute studied drivers under partial and no sleep deprivation and their response time and braking time. This is done using a driving simulator. Driver reactions to sudden unpredictable events were monitored effectively as simulators use immersive technology to create conditions similar to the real world.
Benefits of Shifting Virtual Training Simulator and Digital Transformation Processes from Analog
Digital transformation is imperative in today's world and organizations are looking at integrating technology into every aspect of their operations. Training is one significant area where digital transformation can produce incredible results. Listed below are key benefits of shifting training processes from analog to digital:
1. Immersive learning leading to higher knowledge retention.
A classroom-based training model with books, pen, paper and an instructor doesn't always translate to productive sessions. On the contrary, digital training delivers immersive learning experiences, making the learning process more fun and interactive. Knowledge is retained better as learners are actively participating as opposed to passively watching.
2. Reduced training costs
Traditional methods of training may seem inexpensive in the beginning. But the compromised productivity of employees only proves costly for organizations in the long run. A VR simulator training and digital transformation program make great business sense. This is because it can train three times faster. It also allows a focus on groups, and increases output and productivity, resulting in a pool of highly skilled employees.
3. Establishes a good company culture
Training and induction sessions play a critical role in establishing company culture. Employees who resonate with the company's goals and values develop a sense of belonging towards the organization. Interactive training using immersive VR technology can help employees better understand company culture and identify themselves as dedicated employees working towards a shared vision.
4. Attracts millennial talent
Millennials today aren't just driven by monetary benefits. There are several other aspects to a job that lures employees towards a certain organization. And one of those is the quality and effectiveness of training processes. A modernized company with the latest training techniques is naturally deemed a better fit for career development by millennials.
5. Optimize process efficiency
From recruitment to training, the integration of technology paves the way for better productivity and efficiency. It isn't just the employees who benefit from digital training. By improving training processes & eliminating errors, employers can assess employee performance, & assign job roles accordingly to make better decisions.
Conclusion
Vr Simulator training and digital transformation is not just about modernizing a few processes here and there. It's about strategizing digital transformation with due diligence so it brings tangible results for the organization. And as simulator solutions look poised to revolutionize training processes across industries, organizations will look for ways to capitalize on these technologies and gain the first mover advantage.
With that being said, the success of these innovative training programs is contingent on how it is implemented. Tecknotrove is at the forefront of delivering tailored, cutting-edge training solutions Across a spectrum of industries. Over the last couple of years, Tecknotrove has helped dozens of organizations accelerate their digital transformation and revolutionize their training processes via VR and simulator technologies.
In the past 30+ years, Tecknotrove has helped startups and legacy enterprises deploy sophisticated simulator training solutions. Simulators align with our clients' organizational needs and help them accelerate digital transformations. Get in touch with us today to learn more and see how you can implement digital training solutions in your organization.