Technology has always been a key building block in education. Education includes vocational or technical training that prepares people to gain relevant skills and join modern-day workforces. In our innovation-driven societies, workforce flexibility is a key metric of economic success. If workers constantly update their skills as per the needs of the global labour market, everyone benefits. In India, international forces are compelling local companies to find new approaches toward boosting their workers' productive potential.
As we all know, due to the COVID19 pandemic, many technical workers in India have lost their jobs. Many have missed out on training and vocational training due to the lockdowns. Integration of technology in vocational training will be key to helping workers future-proof their career prospects. Let us have a look at the role technology would play in vocational training and skill development in India.
Vocational training around the world
When it comes to vocational training, countries such as Switzerland, Germany and Austria are seen as among the best examples . vocational training in these countries starts young when children are only 15 years old. All these three countries follow a dual education system which allows the youth to spend part of their time in the workplace and part in colleges. This not only helps in reducing the unemployment rates but also helps the country to develop a solid industrial and manufacturing base. Switzerland boasts of having one of the lowest youth unemployment rates in the world – at just 2.4% in January 2019 .
In 2020, the unemployment rate in India was estimated to be 7.11 percent. Since 2020, Indian companies have witnessed a massive gap between the demand and supply for skilled, technical jobs. The biggest worry amongst Indian industries and businesses is of not being able to upskill labour forces without government support . However India is taking positive steps to improve this situation , India's 2022 budget has been aimed at revitalising the economy. The government has launched the National Skills Framework to address these worries and the dynamic requirements of India's modernising industry. As per the National Skills Framework, the government will set up 75 skills labs and 750 virtual labs. These labs will provide simulated learning for students of all ages and educational backgrounds.The government has also launched the DESHStack ePortal. This portal is designed to provide upskilling through online training, especially for technical jobs that are in high demand.
India's tech-driven approach toward the systematic development of labour force skills is promising. Technology has an increasingly significant role to play in vocational training and training (VET). What technologies will help workers acquire skills that enable them to address new-age workplace challenges? Let's explore.
nesses overcome the challenges.
New Emerging Technologies for Education
Tech-assisted vocational training and training provide amazing opportunities for students to upskill or learn new skills. Technology also gives trainers and educators the chance to develop interactive courseware using advanced multimedia tools. Plus, students get to become technologically competent while receiving tech-assisted vocational training.
There are already technologies being used by industries worldwide that enhance the way vocational teachers provide technical education. Here are some key emerging technologies in vocational training and training in India –
Adaptive Learning:

This technology is designed to provide educational activities or tasks to students based on their specific educational needs. Adaptive learning is a technology that adapts to every students' specific needs in a short time. AI plays a key role in creating adaptive learning paths based on the students' interests and learning abilities. AI programs can orchestrate real-time interactions with the students and provide them with customised resources about the subjects they're studying.

Artificial Intelligence (AI):

Artificial Intelligence plays a part in adaptive learning. It can also be applied to other aspects of vocational training and training. For example, most high-quality search bots can already process large amounts of text-based data (any language) to provide short synopsis. EdTech companies are applying this technology to process large amounts of text-based data for students receiving vocational training and training. In India, students need to work on books, technical manuals, etc., during VET. AI-powered text processing tools can make this information more accessible to students. For example, students can receive voice translations or synopses of huge texts in their native language.

Automation:

Many companies have created automated educational platforms for their workers. Students receive guided courses that are pre-designed by human teachers on these platforms. But, during the training, no human operators are present. Students learn by interacting with automated UIs. These user-friendly systems make vocational training simpler and easier to access. Lectures can be digitally scheduled and attended remotely by all students.

Competency-Based Upskilling:

It's in the company's best interests to regularly upskill its workforce. But, equipping the right type of workers with the right types of skills is even more important. Companies can now realise what skills their workers possess thanks to advanced, AI-based profiling and testing tools. They can use the results of these tests to assign specific upskilling courses to certain workers. AI-based analytics tools can also help teachers understand the learning behaviours of their students more accurately.

Augmented and Virtual Reality:

"AR" or "simulations" will by far play the biggest role in new-age vocational training and training (VET). It's the best-emerging technology for educators. It can radically transform the learning process for students of all ages. The same applies to VR or "virtual reality" technology.
VR in vocational training and Training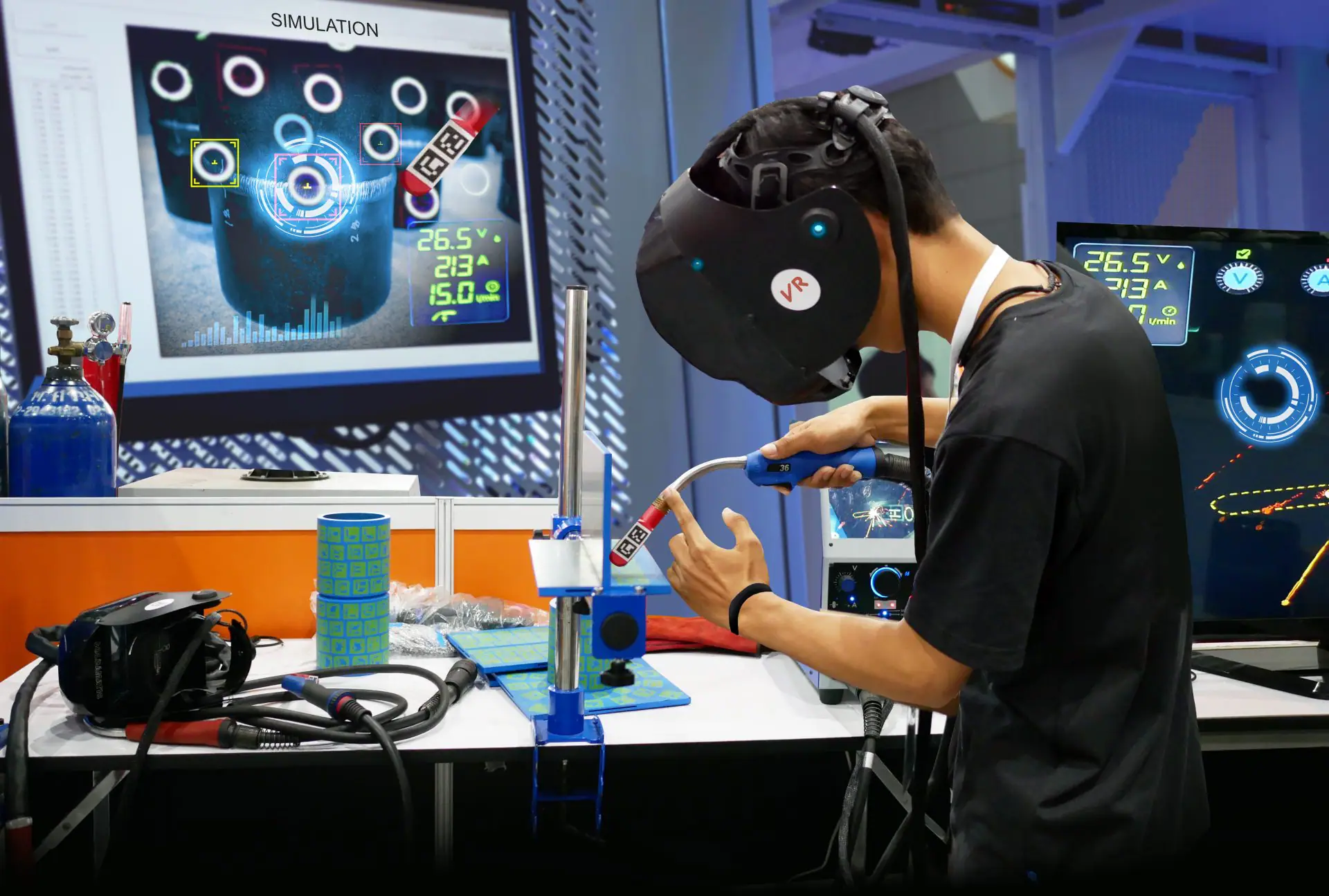 VR technology allows students to be immersed in an entirely artificial environment that's designed for one specific scenario – education.
AR technology modifies our real-life environment by overlaying animation/information on it. This augmented reality can also be designed to provide educational experiences to students.
VR and AR in vocational training and training uses four basic teaching styles –
Visual learning
Auditory learning
Kinesthetic learning or tactile learning
Reading and writing
When students receive vocational training in more visual and kinetic ways, they feel more engaged with the subject material. VR-based vocational training and training are not just more engaging, but it also solves many training problems. E.g., technical training that involves an element of danger becomes risk-free in virtual or augmented realities.
VR and AR technologies are becoming increasingly accessible in the Indian educational sector. Hardware used for VR/AR is now readily available in the form of smartphones, smart cameras, and high-quality display sensors. Their presence in vocational training and training programs can be invaluable for many reasons.
How VR Makes vocational training Better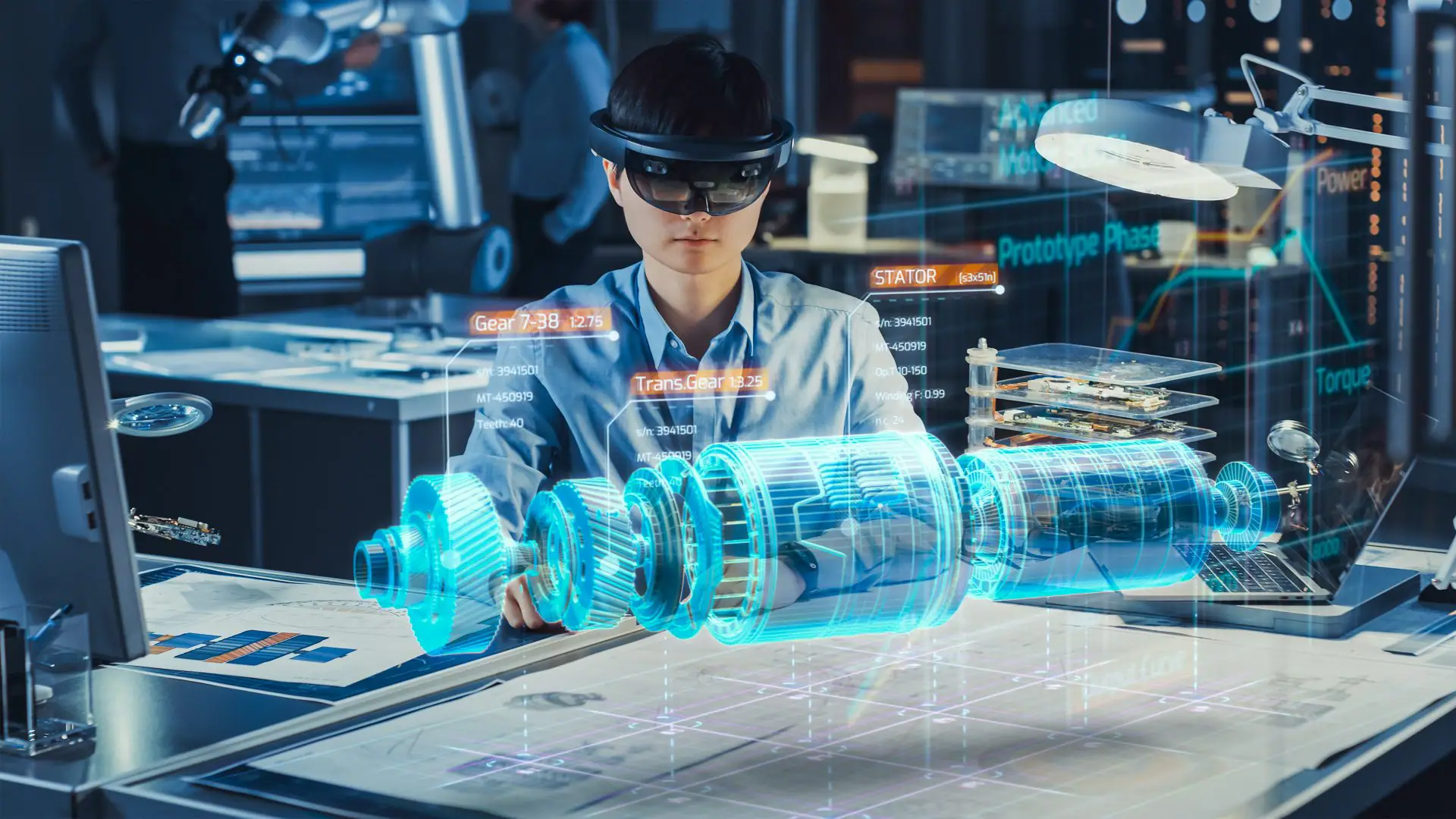 VR training technologies are here to stay. Long after students receive their vocational training, they'll be applying these technologies in their day-to-day work. That's why just by using these technologies for upskilling workers, teachers are future-proofing their careers. VR are especially useful for educators in the vocational training space.
● Teachers Can Teach Better:
By incorporating VR into the classroom, trainers give students more chances to practice important job-specific skills. Untrained or unskilled students don't have to incur the risks of working in real-life scenarios with real-world equipment.
● Kinesthetic Learning:
Muscle memory is essential in several technical industries. Students can develop muscle memory by receiving kinesthetic or tactile learning using VR technology. Teachers can provide targeted assistance to improve certain skills students lack. For example, welders can use VR to receive life-like training experiences with personalized assistance from experienced human trainers.
● Higher Engagement:
VR technology can help both novices and seasoned workers. That's because this type of education is way more engaging than traditional modes of education. With VR technology, educators can provide hands-on vocational training in a structured, interactive, and engaging way. Of course, workers can recreate the virtual training in the real world with real physical devices. But, in the virtual world, there's no pressure from managers to learn quickly. Inside VR worlds, students get to learn every specific topic at their own pace.
● Improved Safety:
Due to the COVID19 pandemic, many vocational training centres have shut down. Some types of vocational training programs are inherently dangerous. VR technology resolves both of these issues. These technologies allow employees to learn and practice tasks remotely. There's no risk of endangerment. Hence, companies get to avoid expensive litigation risks. In addition to ensuring their safety, VR and AR-based vocational training also motivate trainees to learn more. That's because the learning experiences are new, imaginative and exciting.
● Cost-Effective training:
VR training equipment is not cheap. However, barring the initial upfront costs, these pieces of technology are quite cost-effective. They're reusable and can be used by students of all ages. These devices encourage trainees to retain more information and skills, so they improve the quality of the workforce. They also help reduce the dependency on personnel for vocational training and training.
VR technology-based education is a proven technique. In many western countries, VR training tools have been used successfully to improve classroom engagement. It's a proven technique because students love getting a virtual taste of the skills/techniques they'll use later in life. Hence, they're more engaged with these virtual classes.
Uses and Applications of VR in Vocational Training
The ability to receive career-boosting training inside 360-degree virtual worlds is very promising for new-age workers. Imagine young soldering professionals learning how to create PCB chips without working with fire or risky equipment. All of that is possible with VR in Vocational Training.
Experience Workplace Environments
AR & VR-based vocational training gives young trainees the ability to experience working environments. They get to see the workplace demands and resolve challenging circumstances at their own pace. This type of immersive vocational training sets them up for success later in their careers.
Learning through practice
Digital vocational training allowed students to watch videos, tutorials, etc. VR technology gives them the chance to learn important things through practice. Students can revisit scenarios or situations in their virtual educational worlds again and again. To do so, they don't need to spend extra money. By doing so, they improve their skills and capabilities with repetitive practice.
New Perspective on Education
In virtual worlds, trainees can experience real-life scenarios with virtual customers or clients. They get to obtain a new perspective on the tasks they need to perform in order to have successful careers. This perspective is crucial for trainees that want to add more skills to their resumes.
Many sectors are currently using VR technology to provide vocational training to their employees. Here are some industries where VR-based vocational training has proven to be successful –
Retail:

Many retail companies are using VR in training scenarios to provide "situational practice" to employees. For example, trainees can tour the "virtual" sales floor to learn about products, interact with customers, colleagues, etc.

Manufacturing:

Trainers use VR technology to provide detailed, step-by-step instructions to students. Students receive information via immersive images, videos, voice commands, and simulated environments. Welders, soldering professionals, and several other types of technical workers benefit from VR-based vocational training.

Space:

AR & VR-based vocational training prepares students or professionals in the aerospace industry for real-world situations like taking space expeditions.
Final words
Vocational training is key to every country's Success being ready for the future. Professions and job demands are constantly evolving. Your career-oriented training should prepare you to join the workforce or start a specific trade or occupation. Technology-driven vocational training is critical for achieving these goals.
Vocational technical schools are always producing the future generations of engineers, industrial professionals, and technical workers. Technologies like AR/VR can propel these schools to the next level and help them create even better workers. The future of vocational training and training is tech-driven, and that's great for everybody involved.
About Tecknotrove
Tecknotrove is a pioneering force in VR training, workforce skill development modules, and simulator training solutions. With a specialisation in curating and delivering bespoke training solutions in line with real-world challenges and demands, Tecknotrove has made a mark as the training partner of choice for 100+ startups and legacy enterprises across a spectrum of industries. Get in touch with us today to learn more about our solutions and how we can help upskill your workforce.
Teachers and students get access to the world outside their respective workplaces. Integration of Internet-based technology can make vocational instructions broader and easier to access.
Teachers can use technological tools to design life-like learning environments that highlight education in the context of real-world scenarios.
Technology keeps technical and vocational programs relevant in terms of present-day workforce demands. Unlike old-school education, new-age technology-based education (also known as "Ed-tech") is flexible. E.g., educational content on digital platforms can evolve quickly with changes in how people currently live and work.
vocational training needs to be up-to-date due to all the massive shifts taking place in the world of work. Technology can help people learning for employment acquire skills quickly, conveniently, and cost-effectively.