Preparing the defense personnel to confidently tackle any situation on ground is challenging. Military training has always been critical and there is a lot of uncertainty and unpredictability involved in a battlefield where soldiers are required to handle high pressure situations with presence of mind. Only when the soldiers have a first-hand experience of what a battlefield looks like will they be confident enough to take on real enemies. Simulation is the answer to bridge the training gap and provide a realistic experience for soldiers. This technology has proven to be a boon for the defense industry owing to its realistic, risk-free training capabilities. It is also penetrating into every industry and it isn't a surprise that it is now a critical part of the defense industry.
With technology advancing at a rapid rate, it is critical for the armed forces to take advantage of the latest technology for enhanced training. India being the fourth most powerful in the world with respect to its military and defense capabilities, it makes great sense for them to look for VR and simulation training solutions that can prove beneficial for further strengthening the armed forces.
Why is virtual reality important and how can it be used for training defence forces?
The goal of military training is to ensure that the defense forces are well prepared for and ready to accomplish their strategic, operational, and tactical objectives on ground. In virtual reality, every imaginable dangerous situation can be simulated from firearm training up to devising full scale war strategies. Hence VR Simulation can be leveraged to replicate any scenario possible including a battlefield situation or training in extreme climate conditions so soldiers know what to expect on ground.
Use cases of VR military training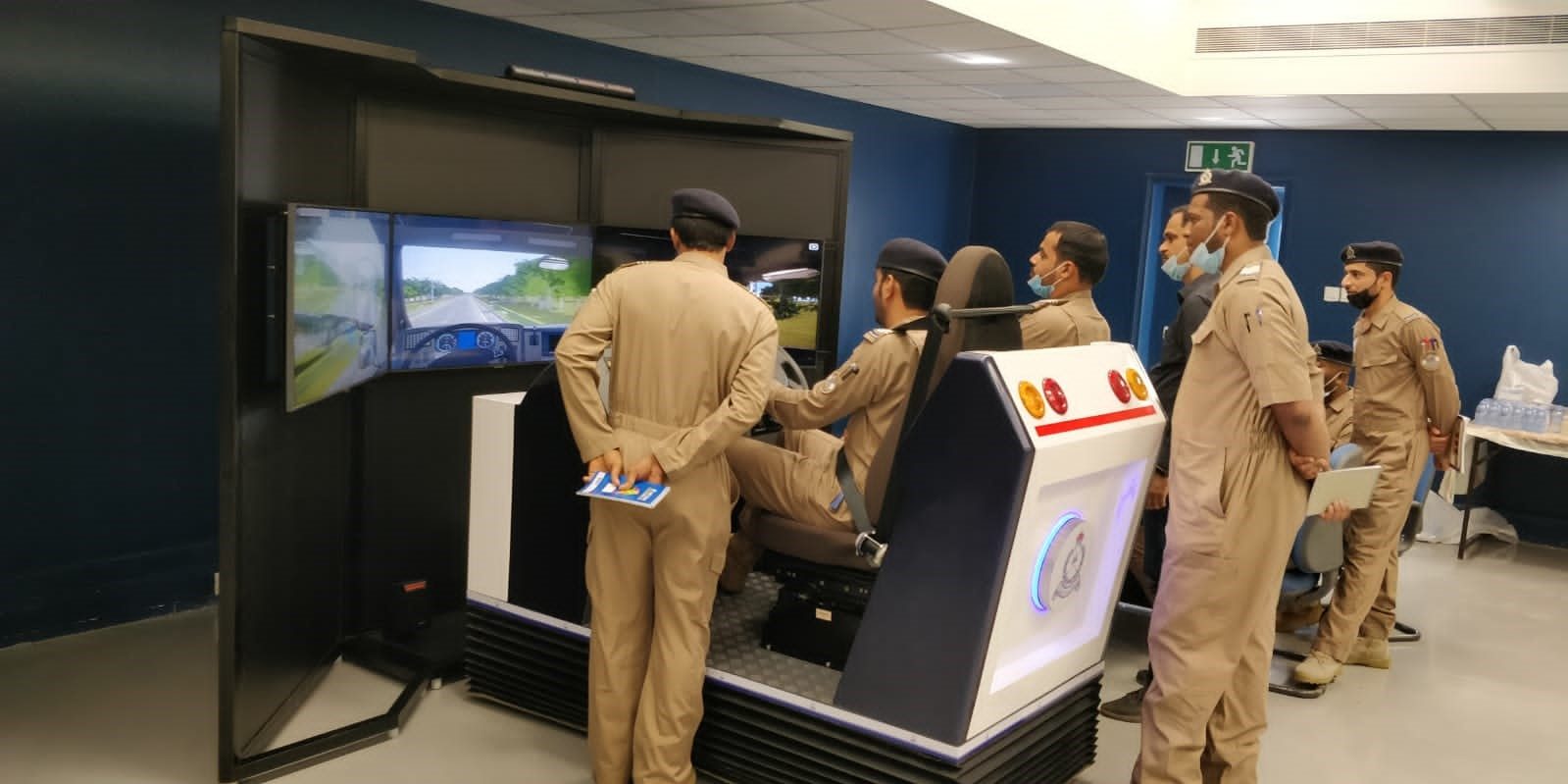 Advanced Military Vehicle Simulators
Military vehicle simulators allow training of forces on tracked/wheeled, armored/non-armored vehicles for critical mission operations. The simulators are designed for both driver training and weapon training and are available for standalone training and collective training operations with multiple networked simulators. With the simulator, defence can prepare their forces for autonomous driving, convoy driving and operating on multiple terrains like desert, jungle, urban areas, off road or base camps. Vehicle Driving, crew training, convoy training are some applications for which Vr military training vehicle simulators are used.
Construction Equipment Simulators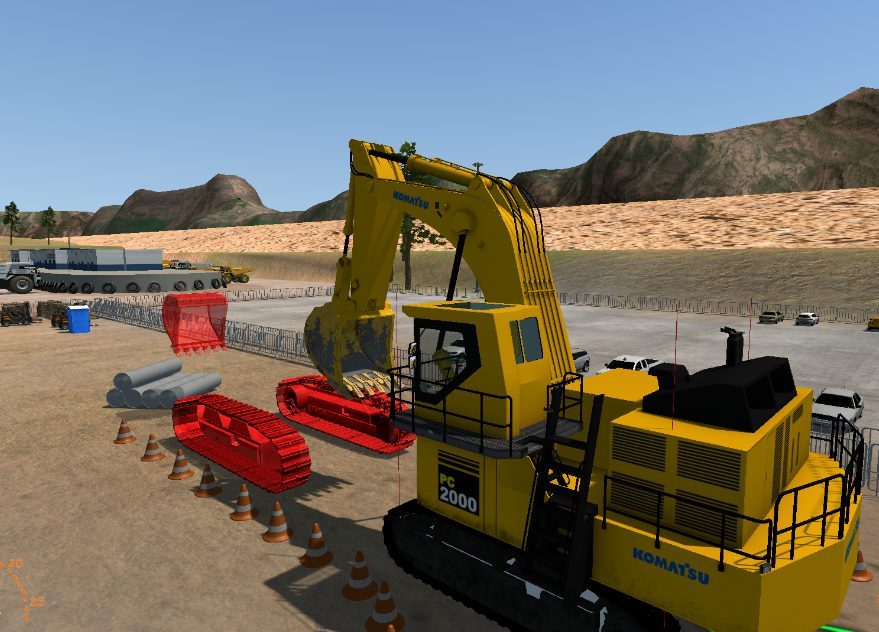 Defence forces including army, navy and airforce employ a wide variety of heavy equipment like Bulldozers, cranes, graders, excavators, dump trucks, loaders, and backhoes in the forces. These construction equipments are used for military construction and maintenance of bridges, tunnels, concrete and asphalt runways, aircraft parking aprons, and roads. Military Construction equipment simulators allow training forces to operate or manage the use of bulldozers, cranes, graders, and other heavy equipment in difficult terrains and weather conditions. Military construction Equipment simulators are proving to be very useful lately.
Electro–optic/Infrared (EO/IR) sensor simulator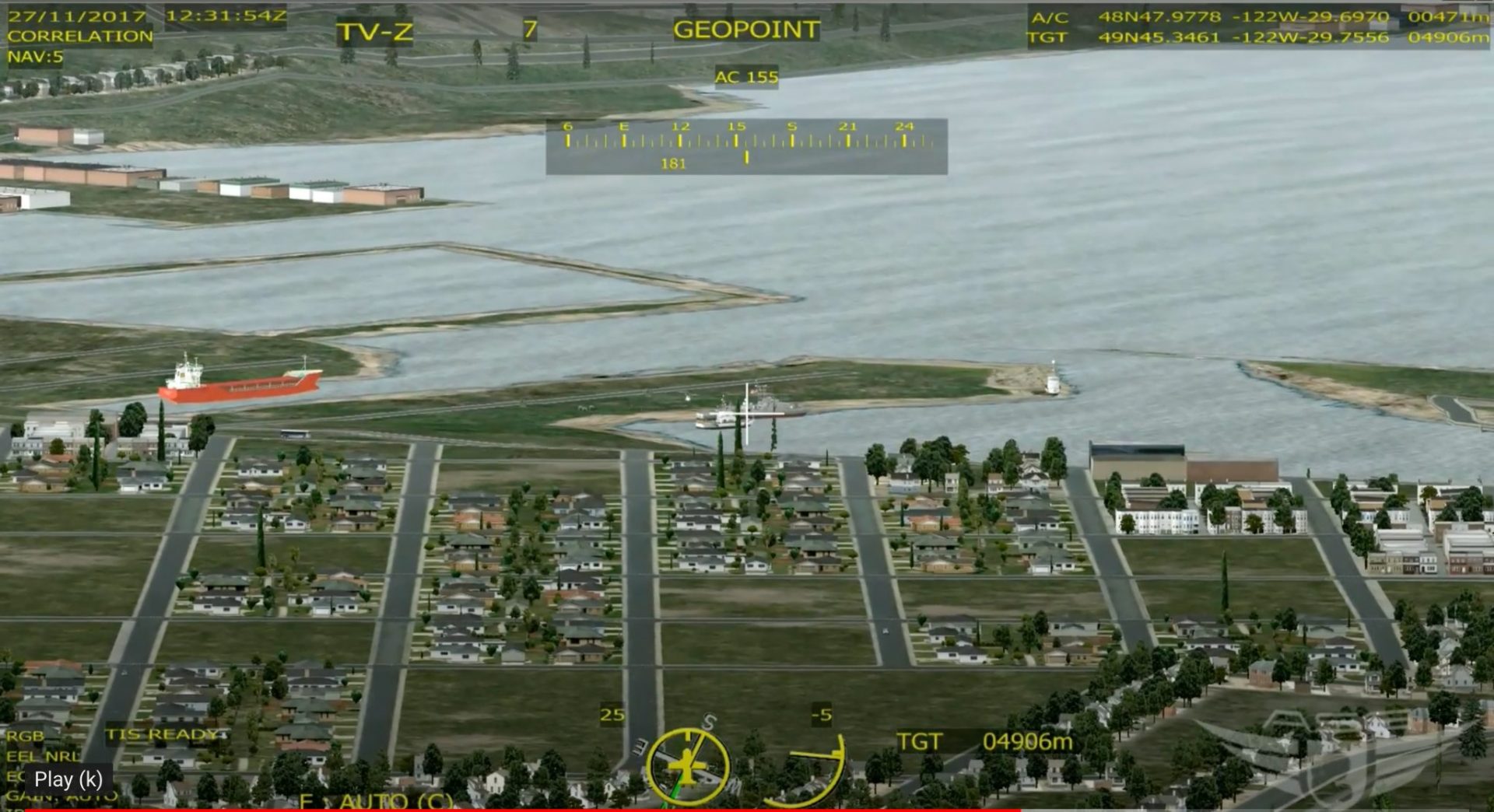 Electro–optic/Infrared (EO/IR) sensor simulators provide the aerospace and defense industry the ability to train their teams on operation of EO/IR sensors. The simulator allows operators to configure and operate the integrated camera and sensor payloads deployed on a variety of simulated rotary and fixed wing aircraft, as well as land and maritime vehicles The EO/IR training simulators are used worldwide by military units, commercial aviation operators and governmental and law enforcement agencies
VR Firearm Training Simulator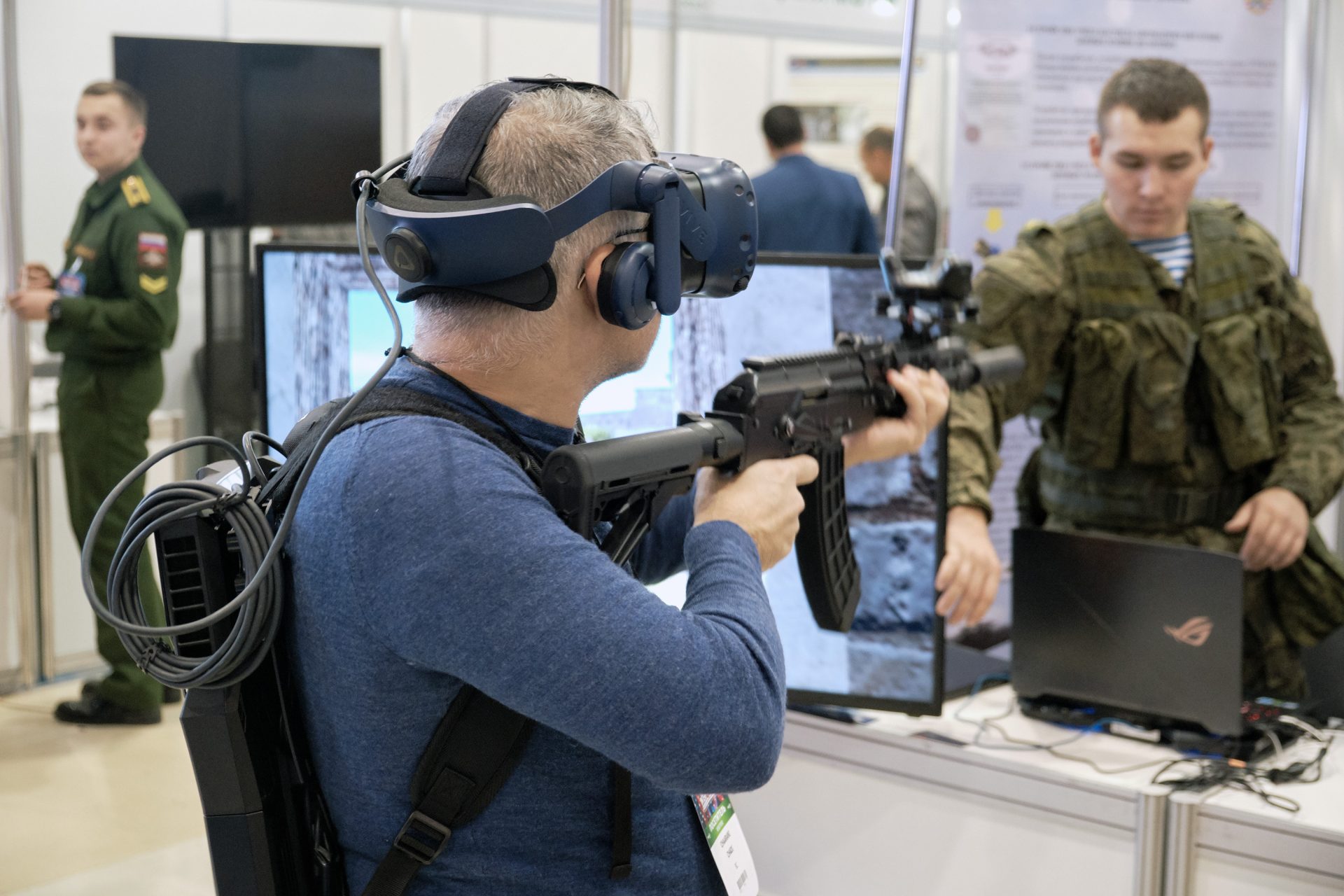 Firearm training simulators are simulators that are actual replicas of real weapons. They allow trainees to experience photorealistic 3D terrain and 3D targets and practice their shooting and marksmanship skills in a safe environment. Simulated weapon recoil adds to the realism of the simulator. The simulators are used for preparing trainees on effective decision-making within a safe, non-lethal and immersive environment.
Specialized Vr military Training Simulators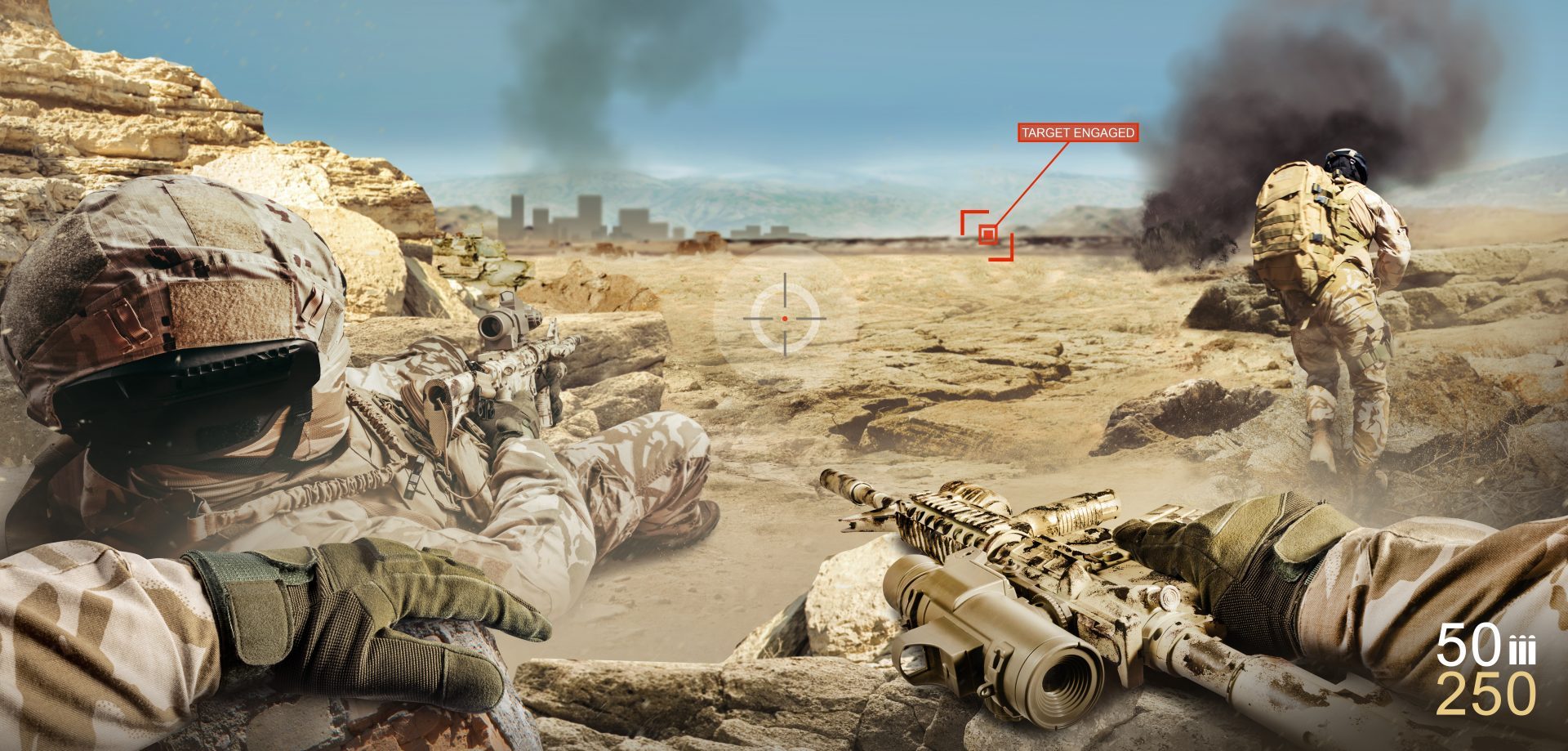 VR Simulation facilitates the creation of a realistic environment for training exercises. Training activities that are too risky and expensive to be executed in real life can be easily conducted in virtual worlds. Navy, Airforce and Army can make use of virtual training for a range of applications like air refueling, helicopter maintenance, firearm training and so on.
While training with VR technology, officers can comprehend a war situation better and predict the possible outcomes. A VR simulation environment gives a clear picture of the battlefield. This helps in predicting opponents' moves and devising strategies for a range of possible situations. It is possible to replicate several scenarios with zero risk factors to make elaborate plans to defeat the enemy.
How can the concept of digital twins help India in the defense sector?
VR in vocational training and Training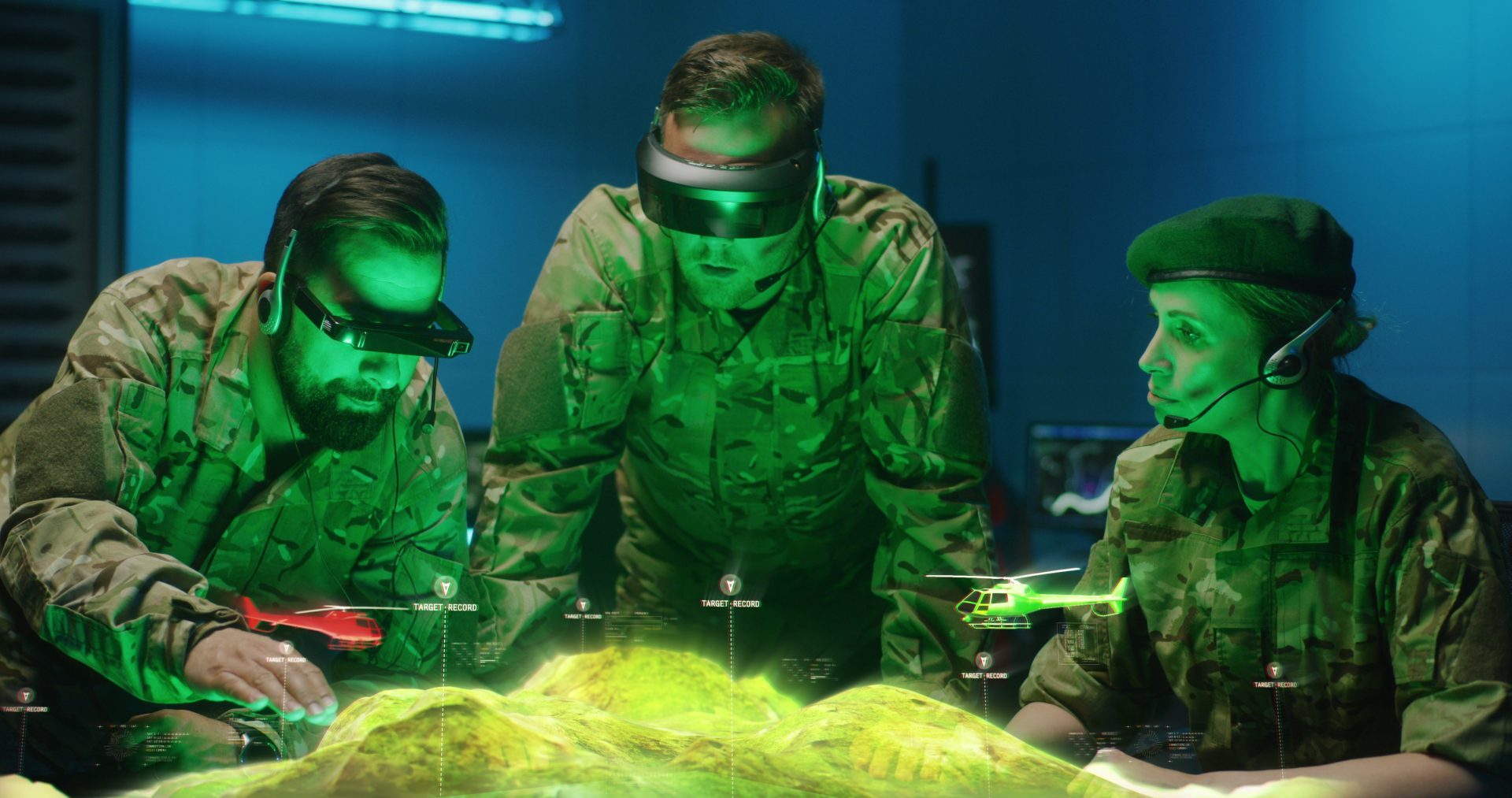 A digital twin means a digital representation of a physical object. The concept of digital twins has brought a host of advantages for the defense sector. A digital twin creates simulations based on real world data so as to help users understand how a product or process may perform. Since the Indian government is pushing for domestic production of equipment, digital twins can be of immense help. Digital twins enable better management and maintenance of military equipment.
The digital twin technology can facilitate engineering simulation and accurate prediction of asset behavior to increase operational efficiency. Especially for the Navy, the application of digital twins can lead to efficient operations in shipyards with optimized workflow for construction, repairs and maintenance of shipyards.
Uses and advantages of Digital Twins
Listed below are few key benefits and applications of the digital twin concept within the defense domain.
Virtual manifestation of physical asset

One of the biggest benefits of the digital twin technology is that it enables virtual manifestation of a physical asset without having to create a physical prototype to understand flaws and shortcomings. The digital twin will facilitate prompt feedback which saves time and cost. Time is extremely valuable in the defense sector and a digital twin helps one transition from design to manufacturing stage in the quickest way possible.

Data-driven decisions

Employing a digital twin paves the way for enhanced readiness information. It gives real time insights on the battalion's preparedness, status of equipment and weapons as well as food, water and fuel availability. Such insights are critical to the success of a military operation.

Predictive equipment maintenance

Digital twin's insights combined with AI can help with predictive maintenance. By using technology, maintenance actions can be initiate before failures cause severe consequences, saving costs. Real-time scheduling and execution of maintenance cycles are possible.
What are the advantages of VR Simulation training for Defense and Military?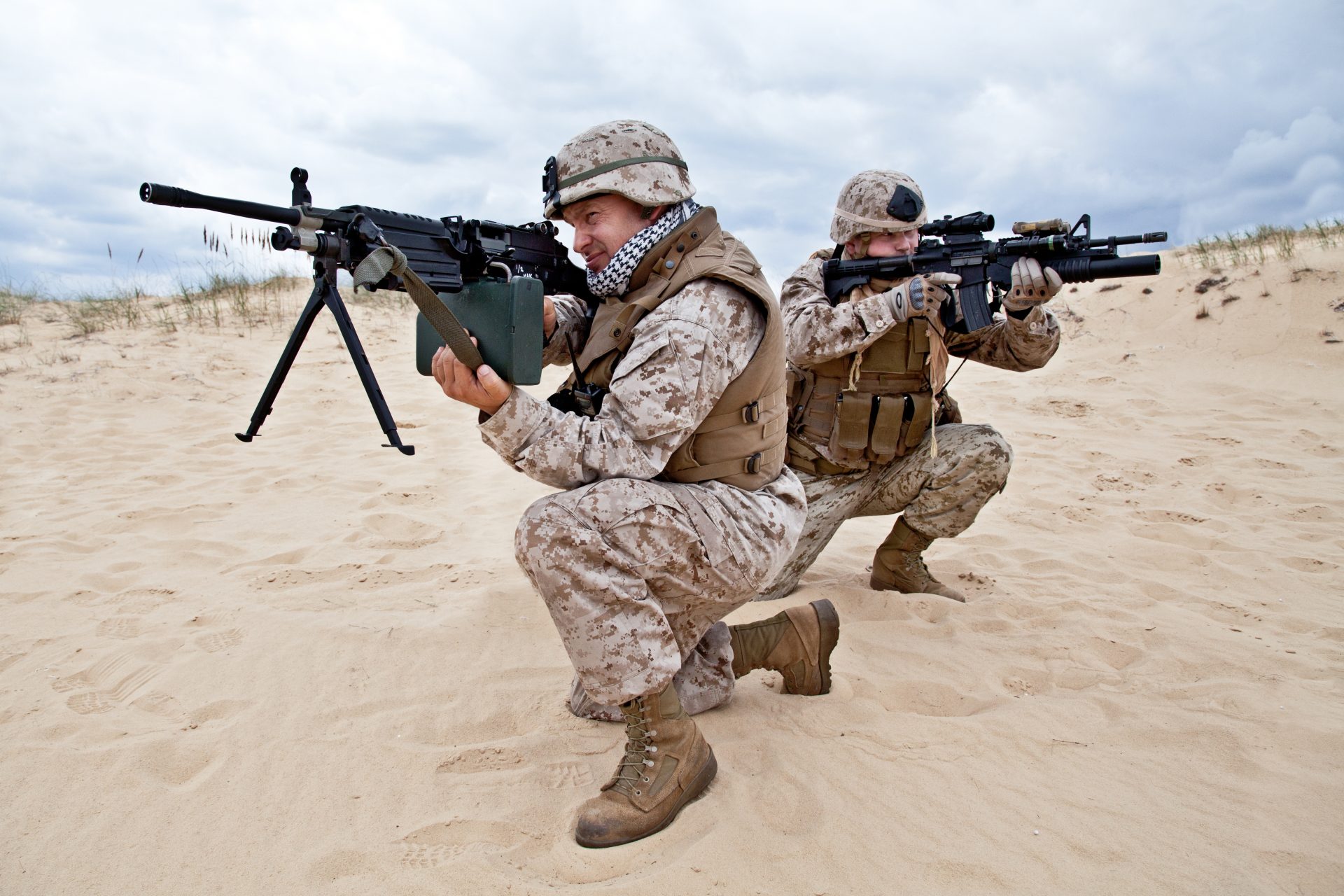 The benefits of using VR Simulation in defense extends beyond mere realistic and immersive experiences. Listed below are the benefits of VR Simulation in defense:
Scalable training
With VR Simulators training can be provided round the clock. Use of actual equiments, vehicles, tanks and fire arms for training may not be possible and involves too much risk. With VR military training simulators becomes simple, easy and scalable.
Standardised and measurable training
The inbuilt training and evaluation systems in a VR Simulator software allows standardized training that is scalable and easily measurable. Immediate feedback mechanisms and performance evaluation reports enable the trainer to monitor the performance and set corrective courses of action for improvement .
Zero risk training
The Indian Air Force insists that pilots be trained on flight simulators before they start operating a fighter plane. Flying a fighter plane with no prior experience is quite risky and can lead to fatalities. Simulators are clearly the training solution wherever there is a risk involved. Vr Simulators are the best training tools when training in high-risk situations.
Understanding India's policy on simulators for armed forces training
With an aim to make India the manufacturing hub of military equipment, the Government of India has imposed a ban on import of certain weapons and simulators. Defence ministry announced a policy governing use of simulators for training purposes. The policy has its key focus on synergized utilization of simulators. The government has recognized the significance of simulators for faster, cost-effective training and plans to deploy them across all military domains. The policy emphasizes indigenous design and development of simulators as well as outsourcing its maintenance to Indian companies.
The four main objectives of the policy are as follows:
Reducing the use of live equipment
Ensuring phased induction of simulators
Understand simulator requirements well before moving to the procurement stage
Coordinate and examine combined simulator requirements across various agencies of the government
The Government of India is keen to explore and utilize simulator technology for military and defense forces to reduce the expenses incurred on training and extend the life of real equipment. The policy lays special emphasis on indigenisation with respect to procurement, operations and maintenance of military simulators.
The government of India also plans to strengthen the country's military by decreasing its dependence on imports and indigenously producing defense equipment. India currently imports military weapons and simulators from the US, Russia, Israel and France. The country will shift from mere procurement to robust technology needed to produce equipment by banning imports. Government-sponsored efforts to improve training and preserve real equipment will lead to a boom in simulator manufacturing. Government officials have make a list of 101 items that is prohibit from importation.
How is VR simulation changing the face of armed forces training?
VR simulation helps train armed forces in a realistic and intuitive manner. It is extremely useful for practicing parachute jumps and operating in claustrophobic military environments using VR simulation technology. The navy uses virtual naval ships to learn ship layouts and emergency exit routes. When they're on duty, they'll get ready for anything. Let's now have a look at some of the special use cases of VR.
VR for disaster management training


Disasters are unpredictable and can happen at the least expected moment. Nevertheless, it is critical to stay prepared for all kinds of disasters and emergencies. VR stimulates all the senses and provides an immersive experience for defense personnel. With conventional training methods, it isn't possible to train army personnel under real stress conditions. But the VR simulation one can simulate a number of disaster scenarios and immerse the users in the environment to provide a realistic experience and training on emergency response.

VR for CBRN training

If the war involves chemical, biological, radiological and nuclear weapons, it introduces additional threats for the military troops. VR is of utmost importance for CBRN training as it prepares soldiers for nuclear-response scenarios. Traditional radiation safety training methods are incompetent to accurately replicate the threat situation. AR and VR can help military troops acquire new skills effortlessly as new war strategies and techniques emerge.

Surveillance and Reconnaissance (ISR) Simulators

ISR stands for Intelligence, Surveillance and Reconnaissance. Training includes EO/IR, RADAR, Communications Intelligence (COMINT), Electronic Intelligence (ELINT), Electronic Warfare (EW), Acoustics, Mission Management, and more. By incorporating intelligence, surveillance, and reconnaissance (ISR) data into synthetic environments, ISR simulators help create high fidelity training environments. ISR simulators help achieve enhanced military readiness.
Conclusion
The nature of warfare is changing and evolving with each passing year. As military weapons become more complex and sophisticated, it is crucial for training methods to be at par with the latest developments. Armed forces all over the world have been using simulation technology to enhance mission readiness. India's defense can gain an advantage over enemy forces by using simulator solutions that are evolving alongside technology. The new simulator policy by the Indian government will boost simulator adoption and cut training costs to a significant extent. VR powered simulators are robust tools to hone skills without actually using heavy, expensive equipment.
The Atmanirbhar Bharat Abhiyan will increase self-sufficiency and domestic sourcing of simulators. This is a great opportunity for Indian companies to enter the growing defense simulator market. Simulator training is equally effective for land-based training, air and naval training. With widespread use of simulators, India's defense can achieve significant progress in imparting quality training to troops.
About Tecknotrove
Tecknotrove is a pioneer in developing cutting edge simulation and VR solutions for defense, law enforcement, nuclear, automobile, mining and aviation industries. The company provides customized simulators for critical training applications for organizations across countries. Over the last three decades, Tecknotrove has been instrumental in installing simulator solutions and learning centers across organizations. We have delivered over 800 projects (Simulators, AR, VR and Gamified learning) in 26 countries around the world. With our global experience in different industries, R&D centre, manufacturing facility and over 18 years of expertise in developing simulators, our aim is to provide mission-focussed world class defence training solutions for Army, Navy & Airforce. Get in touch with us on sales@tecknotrove to understand how simulation and VR can benefit your organization.